The plantation industry is perhaps the finest place in which to learn leadership in a very hands-on manner. It is hugely exciting, sometimes very painful and always beneficial; the lessons learnt of lasting benefit. It is a treasure-trove of memories that last all life long; decades after most of us left planting. It enriches us with friendships that transcend all boundaries of religion, culture, region or language and with the cohesiveness of steel rope. If I am asked to name three of my closest friends, two if not all three would be planter friends. Of such a place and time, I speak.
The vast majority of workers in the estates were Dalit (lower caste Hindus). In some estates there were some Christians (converts from Dalits). In some estates, especially close to Kerala there were Malayali (Kerala) Muslims. Anamallais, where I joined, had a majority of Dalit workers. In the Hindu caste system, these Dalits are considered 'unclean' by other high caste Hindus and so in their villages they have to live in a separate area, are not allowed inside the temple, and have to even draw their water from a well set apart from the common village well. These are some of the facts about discrimination against Dalits, which is still prevalent in India.
When these people came to work in the plantations, more than a century ago, they organized themselves according to the villages they came from. Since they were the only Hindus on the estates, they built temples in some of which they performed the rituals themselves. In other temples, they hired a Brahmin priest from the plains to do the honors. By and large, they were able to create their own society on the estates and so lived with a great deal more honor and self-respect than their own relatives were allowed to live in the plains in their native villages. However, some of the sense of low self-esteem and awareness of their own low status in the so-called real world remained. I got a taste of this very early in my planting career.
One of our workers in Sheikalmudi Estate died while he was away on leave in his village. Several of his family asked me for 5 days leave to go to his funeral. I was not too happy giving so much leave to so many people, but I agreed because in the words of my Manager Mr. A.V.G. Menon, 'Nobody dies so that others can get leave.' Imagine my amazement however, when the next day I saw them all back in the estate. I asked them what had happened and why they were back so soon. They all looked sheepish and refused to say anything. Finally, after much persuasion, this is the story they told me.
"We reached our village late in the night. The next morning, we went to the local tea shop to get have some tea. But to our surprise (and embarrassment) we were not allowed inside the shop. We were told that if we wanted to have tea, we could take the coconut half-shells that were hanging on nails from one of the roof rafters and sit outside on the ground outside the shop and drink the tea. Once we had drunk the tea, we had to wash the 'utensils' and put them back on their nails."
"But you know Dorai," one of the younger ones told me, "The price of the tea is the same for us and for the high caste Hindus who are given proper cups. No discount price for drinking in coconut cups sitting in the dust."
"I guess we forgot who we were, Dorai," said their leader. "After all, we all came from the same village, but we have lived here for so long that we started believing that we also are human beings. This visit reminded us of what we are."
I was speechless with anger and sadness. What could I say to them? Thousands of years of oppression and apartheid, alive and well in Tamilnadu, a state that claims to have 100% literacy. And a collective helplessness that seems to be able to do nothing about it. One of my major motivators in working with Dalits all my life is this incident. I can still feel the anger and the shame of a society that allows this discrimination while mouthing all kinds of platitudes about 'children of god' – Harijan – the name that Gandhiji gave the Dalits. If they are children of god, then we must question what kind of god it is who allows such discrimination.
When I joined Sheikalmudi Estate in 1983 as Assistant Manager, Lower Division, the pruning season was going on at the end of which, it was estate tradition to have a big lunch to which all the pruning workers, supervisors and managers are invited. On the given day, I arrived at the Muster (gathering place to allot work) and was ceremonially met by the Union leaders, staff, and some workers, garlanded with flowers and taken in a procession to the Crèche which was the site for the lunch. In South India we eat off a grass mat spread on the floor on which plantain leaves are spread in lieu of plates and so the seating was arranged accordingly for all the gathering. I noticed that in the corner there was a table set aside with a place setting; knife, fork, and porcelain plate. I realized what was going on. The special seating was for me so that I would not be embarrassed at having to eat with them and save them from the resultant embarrassment in case I refused to eat with 'low caste' people. The diplomatic thing to do was to use social status as the excuse and set up a separate eating place where both their honor and mine would remain intact. At the time of this story I was new, and they did not know what my values were, so they weren't taking any chances.
I decided to make a point and set the record straight right away in the context of my relationship with them.
Pointing to the table and chair, I asked the organizers, "Who is that place for?"
"For you Dorai!" he said.
"You mean you called me to this function, but I can't eat with you and have to eat separately?" I challenged him.
He was horrified at this turn of events. "Ayyo! Dorai, we thought you may not like to eat with us. That is why we set this table for you. The fact that you are here is an honor for us. You don't have to sit and eat with us on the floor."
I knew of course why he was saying what he was saying. This was the Dalit speaking to someone who was socially higher than himself. Even though the caste issue did not apply in my case as I am Muslim and we have no caste system, all human beings being equal in Islam irrespective of caste or race. However, the Dalits have learnt to play safe. So, they were giving me the honor due to a high caste Hindu.
I wanted to make my point. I said to him, "In my culture, the guest is only honored if the host eats with him. So, if you people are not going to eat with me, then I will leave as I have no need to be insulted."
"Ayyo Dorai, please don't misunderstand. If you eat with us, it is we who will be honored," he replied. There were now big smiles on the faces of everyone. "Dorai said he will eat with us," the whisper flew through the crowd. A place was set for me at the head of the eating mat and we sat down to a wonderful meal, something which they said was the first experience of its kind in their lives. My point was made; here was a man who did not differentiate on the basis of caste and who genuinely believed in equality of people. I did not fully realize the power of what I had done, just by following my own religion. Many years and many incidents later, some of the workers who were with us at that banquet that day said to me, "That day we decided that you were one of us." I have seldom felt more honored in my life.
My other butler who joined service with me when Bastian left was Mohammed Khan, who I used to call Mahmood because he had the name of the Prophet and I didn't want to use it to call him as it sounded disrespectful to yell out, 'Mohammed'. So, I used to call him Mahmood. He was perfectly happy with that as he knew that was a mark of respect on my part. Mahmood was a great cook and intensely loyal. At that time, I was an Assistant Manager working under a very corrupt Manager. I tried to keep my nose clean on the principle that his doings didn't concern me until one day he called me and ordered me to certify the work of a civil contractor who was his man and gave him a kickback in every contract. I agreed and asked the contractor to show me the work so that I could measure it. The contractor looked very surprised and asked me, 'Did you speak to Peria Dorai (Big Manager)?' I said to him, 'Yes I spoke to him. He told me to certify your work. So, show me your work and I will certify it.' The man went away and shortly, as expected, my manager called me.
'Didn't I tell you to certify his work?'
'Yes, you did. I told him to show it to me so that I can certify it.'
'I have seen the work, so you can simply sign the bills.'
'If you have seen the work, then why don't you sign the bills? I don't sign anything until I see it myself.'
That was that. Obviously, the man was not pleased. So, he started to try to make my life miserable. I worked much harder than him and made no mistakes so there was nothing he could do to get at me. One day he decided to 'inspect' my house. He had a reputation for entering the bungalows of his assistants and opening drawers and outraging their privacy. He waited until I had left home and gone to the field and drove up to my bungalow. Mahmood greeted him at the door.
Mahmood had a signature greeting. He would bend over at an angle of forty-five degrees and put his left hand behind his back and bring his right hand in a wide sweeping gesture from his side up to his forehead in a salute and say, 'Salaam Sahib.' The Manager said to him, 'I have come to inspect the bungalow.'
Mahmood, 'But Sahib, Baig Dorai is not here.'
'That doesn't matter. This house belongs to the company and I have the right to enter it at any time without his permission.'
Mahmood responded, 'Dorai, until he returns, I can't allow you to enter.'
'I told you the house belongs to the company,' he yelled.
Mahmood said in a quiet voice, 'Dorai, but I don't belong to the company. I will not allow you to enter until Dorai returns. Please come back when he is here.'
The Manager was enraged but could do nothing short of physically forcing his way in and Mahmood would have put him in a hospital if he had tried. So, he left threatening to have him sacked. As soon as I went to the office in the afternoon, he called me and said, 'Sack that bloody butler of yours right now.'
I asked him, 'What happened?' I knew exactly what happened but wanted to hear it from him.
'I went to inspect your bungalow, but he refused to let me enter. Sack him right away.'
'Why did you go to my bungalow when I was not there? He was perfectly right in not allowing you. I will not sack him. If you want to inspect the bungalow come when I am there.' He never did and Mahmood remained where he was until I moved to Ambadi when he left me and went back to Ooty where he had his family.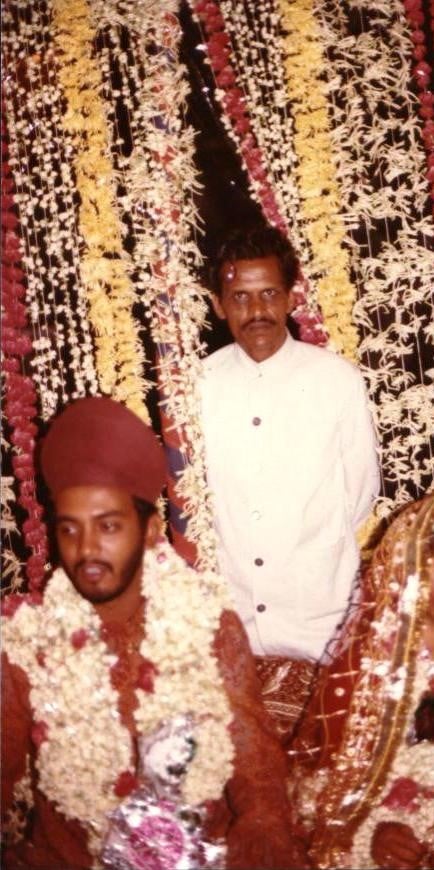 It was in that year that I crashed my motorcycle and went through one year of very difficult times. I had to have an operation to replace the anterior cruciate ligament in my knee and then a very long recovery followed by physiotherapy. All through that period Mahmood served me faithfully and without complaint. He came with me to Hyderabad for my marriage and the only decent marriage picture that I have has Mahmood peering over my head through a curtain of flowers. My wedding photography was a complete disaster and all that I have to show that I'd had a wedding is that one picture. The best thing about both Bastian and Mahmood was that they were completely trustworthy in every respect. They were faithful, their integrity was beyond question, they maintained complete confidentiality, took pride in their work, and cared for me and later when I got married, cared for both of us like members of our own family. We also treated them as members of our own family. I truly have wonderful memories of these two dear friends, both of whom have passed away.
The tea plantations were an interesting place where strange things happened as a matter of course. Over the years, I learned never to be surprised at anything. In the Iyerpadi Hospital where Dr. John Philip was the RMO as I've mentioned and his wife Maya was the Lady Doctor, a man was brought in after having been bitten by a cobra on his face. How this happened is a story in itself. This man had the reputation of knowing some sort of magic spell that he claimed neutralized the effect of snake venom. He would catch snakes and get them to bite him on his hand and then show people that nothing happened to him. This naturally gave him a lot of 'brand' in a place as superstitious as Anamallais was. The reality is that most snakes are non-poisonous to begin with and those that are poisonous usually don't inject a full dose, either because they had hunted recently and have used up their poison on their natural prey – rats – and have not regenerated a new supply, or for some other reason. Never having been a snake, I can't speak on their behalf. The long and short of it is that most people who die of snake bite die more out of fear than anything else.
In this case, however, our friend chased a cobra, which tried to escape down a hole in the embankment by the side of the road but he caught it by the tail and hauled it out and then caught it behind its head and kissed it. He was himself sloshed out of his mind at the time and his bravado far exceeded his intelligence. The result was that the snake reciprocated the affection and he was bitten twice or thrice on the face. Given that this snake did have some venom to donate and that he was bitten on the face, he collapsed. Mercifully, some people saw him and brought him to the hospital. At the hospital, there was no anti-venom and so Dr. John Philip gave him some antihistamine and put him on the ventilator. Now, the interesting thing was that the hospital didn't have an electrical ventilator. What they had was a mechanical device which was like a bellows and needed someone to sit there and pump it constantly to ensure that the air supply continued uninterrupted. It was amazing how everyone in the hospital, nurses, doctors, other patients, their visitors, passersby who heard the tale, all came to the aid and took turns to keep the air flowing into the lungs of the man who was completely comatose. This continued day and night, hour on hour for 48 hours, and then we beheld that the man's eyes opened, and he sat up and a couple of hours later he was as good as new. His love of kissing snakes though, had dampened a bit. I asked Dr. John about this 'miraculous' event. He told me, 'No miracle at all. The poison is neurotoxic, but protein based. It affects the nerves and stops the breathing. But being protein based, if you can keep the patient breathing mechanically by forcing air into his lungs, when the poison naturally degenerates within 48 hours the patient can breathe again'. However, miracles are far more fun to believe in than science and so our friend's stock went up even higher after it was 'proved' that snake venom had no effect on him. The fact that he was in a coma and had been kept alive mechanically for 48 hours was soon forgotten because it came in the way of the belief in the nice miracle.
Shows how such beliefs thrive in all parts of the world, whereas the truth lies either in some straightforward physical reason or in less straightforward skullduggery and playacting.
For more, please read my book, 'It's my Life'. It is on Amazon worldwide