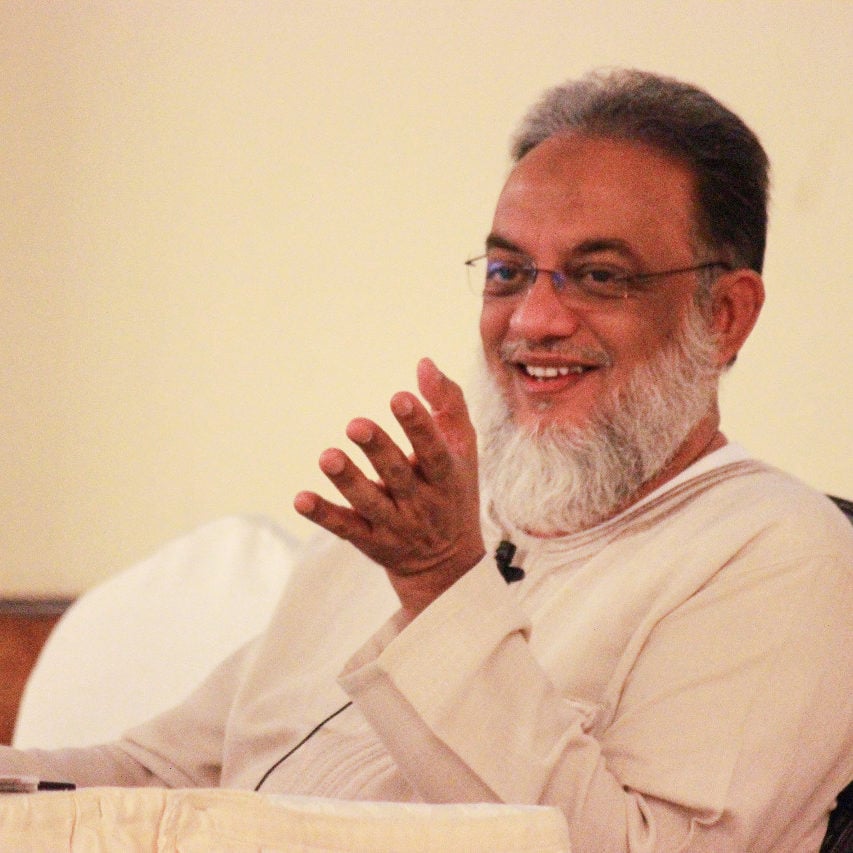 Imam, Mahmood Habib Masjid and Islamic Centre
Shaikh Mirza Yawar Baig is the Founder President, Imam & Khateeb of MHMIC (Mahmood Habib Masjid & Islamic Center, Hyderabad) from 2009, until he moved to the US in 2019. His initial Islamic education was at Jamia Ilahiyat Nooria, Hyderabad. In 1994 he founded Yawar Baig & Associates specializing in Leadership Development, enabling technical specialists transition into leadership roles. In 35 years, consulting with Multinational Corporations, Government and Business Entrepreneurs on 3 continents he's taught more than 200,000 managers, administrators, teachers, technologists and clergy.
Yawar was invited by the Ministry of Haj, Kingdom of Saudi Arabia to speak at the International Haj Conference (2008), and to deliver lectures by ICK & Ministry of Awqaf, Kuwait (since 2010), Diwan, Royal Court of Sultan Qaboos of Oman (2014) and Al Fanar, Qatar (2016). Yawar is a published author with 40 books to his credit, spanning Islam, leadership, wildlife conservation, education, and his quotes. His five books of Friday Khutab are used in the Imam Development Program, South Africa and in Australia and Russia. His book, Leadership Lessons from the Life of Rasoolullahﷺ is the foundation of a Diploma course at the Islamic Online University. Yawar values openness, and quality. He speaks five languages.
He was invited (2010/11) to deliver Friday sermons at the International Islamic University, Malaysia. He has over 600 lectures and 2500 lecturettes to his credit.
Advisor
Jamiat ul Ulama, South Africa
Association of Muslim Schools, South Africa
Jamiat ul Ulama, Sri Lanka

Al Mahad Al A'ali, Hyderabad, India
Al Mahad Al Islami, Hyderabad, India
Jamiat ul Ulama, Kwazulu, Natal
Consultant Faculty Memberships
Business and Leadership
AMA International, New York, NY
GE Corporate University, Crotonville, NY
Foreign Service Institute, US Government, DC
SVP National Police Academy, Hyderabad
Islamic
Advisor, Jamiat ul Ulama, South Africa
Advisor, Association of Muslim Schools, SA
Advisor, Jamiat ul Ulama, Sri Lanka
International Islamic University, Malaysia
Education
Bachelor of Arts (BA), Osmania University, Hyderabad, India
Executive MBA (MEP), Indian Institute of Management, Ahmadabad, India
P-CMM Certification Program, TeraQuest & Carnegie Mellon University, Austin, TX, USA
Myers-Briggs Type Indicator© Step I & II, Otto Kroeger Associates, Fairfax, Virginia, USA & APPIPL, Bangalore
Books Include
Leadership Lessons: Life of Rasoolullahﷺ
Hiring Winners
The Business of Family Business
An Entrepreneur's Diary
Race Towards Forgiveness
Seerah is the Answer
Marriage, the making & living of it
Raising a Muslim Child
Reflect on the Quran
Akhlaaq of the Ummati
Clients Include
GE, Oracle, Motorola, Microsoft, IBM, National Semiconductor, Unilever, Colgate, Asian Paints, Siemens, Wartsila, MphasiS, EXL Service, CGIAR-ICRISAT, CGIAR-WorldFish, World Bank, Tata Corporate, J & J, Accenture, Zeneca Seeds, Shanta Biotech, Advanta, Reuters, Air India, Yusuf Bin Ahmed Kanoo, Olam, Regal Beloit, Reliance World, NIS Sparta, AMKA, Checkout, Emami Group, Suzlon, JP Morgan, SEW Infrastructure, SEAPOL, Expolanka, KAR Group, LANCO, Verizon, Mars Chocolates, Godrej
His lectures on YouTube (www.youtube.com/myawarbaig) have a global following.