Podcast: Play in new window | Download
Subscribe: Google Podcasts | RSS
They sit there, alone and lonely, knowing that there is nobody to carry the tradition forward to the next generation.
There was a time when joint families were the norm in India, where the whole family lived together in one big house. In many or most cases there was only one kitchen, and everyone ate together. The head of the family was the oldest male. In matrilineal systems (mostly in Kerala and coastal Karnataka) it was the oldest woman. He/she controlled all the money, and everyone gave their earnings to her. She/he ran the house and with great parsimony and responsibility and ensured that everyone was taken care of. There was no question of one sibling who earned well, flaunting his or her wealth over the others. Everyone had a place, and everyone was useful until their dying day. The elders, as they got older and no longer took an active part in running the household, became highly respected and valued repositories of customs and traditions, storytellers, the passers-on of family history and the arbiters in any disputes among the younger generations. Nobody was useless or irrelevant or put out to grass. Everyone had a place and an important role and felt wanted and needed.
However, as time passed and times changed, so did this structure. Families broke up as children left the family home, city and country in search of jobs and in pursuit of their careers. Many migrated to other countries, America being one of the most preferred destinations. Even those who remained at 'home', usually moved away from the family home, ostensibly to be closer to the workplace or children's school but really to get away from the control of elders. Cultural values changed, tolerance levels changed, selfishness increased, putting self before others took the place of putting the family ahead of the self. We in India, tend to blame all this on the influence of the West in our society and culture, forgetting of course that the West didn't enforce their influence. We chose to be influenced. Be that as it may, the fact remains that the first people to feel this change were the elders. They lost significance. They suddenly became powerless, almost an unwanted nuisance that others were putting up with. And then as the younger generations moved away, they were left alone. What added to this was that many of the younger generation migrated to the West and their children were born and brought up there, often with little or no contact with the 'home country'. 'Home country' for them was America or Australia or Canada; not India, Pakistan, Syria, Nigeria, Egypt or Bangladesh. Most children didn't even speak their 'mother tongue', since their parents spoke English even at home and didn't teach their children the language of their 'home country' and people. Language is the substrate of the culture, so when the language was lost, so was the culture, manners, poetry, history and connection with the elders.
The 'solution' that many well-meaning children have found is to set their parents up in their home country/city/town/village, often in the old family home, with servants and a regular income. There they stay, with their memories, each corner and wall with a tale to tell but with nobody to listen to those tales. They are repositories of the history of the family, traditions of the community and culture, teachers of customs and manners but with nobody to learn from them. They sit there, alone and lonely, knowing that there is nobody to carry the tradition forward to the next generation. And what's more, knowing that the next generation doesn't even care about this. They sit there, alone and lonely, knowing that they have become irrelevant. They don't need material wealth. They want for nothing materially. What they need is warmth, respect and the company of those they love. What they need is to feel useful, needed and appreciated. What they need is to feel that they still have a place and a reason to stay alive. What they need can't be bought with money, nor ordered on Amazon. I am not blaming the youth. This is perhaps the price we pay for the material wealth and wherewithal that we chased. A price that neither our parents, who encouraged us to sail to foreign shores calculated, nor did we realize that we would have to pay it one day. But life is relentless and extracts its pound of flesh.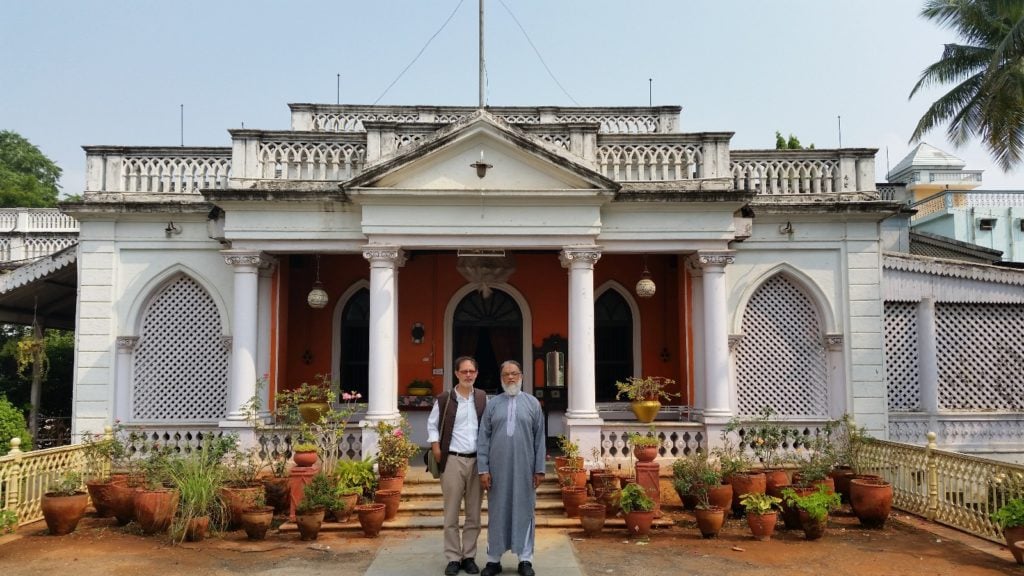 I was born into a joint family in a house, Aziz Bagh, which my great-grandfather, Nawab Aziz Jung Bahadur built in 1899. His children, grandchildren and great-grandchildren all lived in their own apartments, but all lived together in every sense of the term. I recall my early childhood vividly today, more than 55 years later. The house is on three acres of land and during my childhood, had a formal rose garden, lawns, a tennis court, pigeon cotes, a terrace where family functions would take place, a dhobi ghat (where our resident washerman and his wife would wash clothes of our family and were paid for the service) and lots of huge mango trees. Out of all these what I recall most warmly is the love that I received. It was not only me but all of us children growing up, it was as if we belonged to every adult in the house. There was no feeling of strangeness. Any adult took care of you, corrected you, even gave you a smack on your bottom if you needed it. We ate with the family of whichever cousin we were playing with. Nobody told us to go 'home' to our parents to eat and believe it or not, the food was always enough for the unexpected guests that we were in that house.
Our elders taught us manners. Not in formal classes but through their own behavior. They knew that children listen with their eyes. They don't care what you say until they see what you do. One of the informal rituals was that daily we, especially the little ones went to the main house where the head of our family, Nawab Deen Yar Jung lived, to greet him and his wife. One day when I must have been about five-years old, I went there to greet my grandmother, Begum Deen Yar Jung, with a rose which I had plucked from the garden. Normally this was frowned upon. Flowers were to be enjoyed on the bushes, not to be plucked. But I was five. As I went up to her, she said to me something which was so full of love (even if it was a reminder not to pluck flowers) that I recall her memory to this day.
Phool lay kar phool aya,
Phool kar main nay kaha,
Phool kyon laye ho sahab,
Tum khud hi tho phool ho
I don't claim to have remembered the exact words, but my mother was with me and I recall hearing this story from her many times until I memorized these words. My grandmother and her sisters, brothers and their children; my mother and her siblings and cousins were all, each in themselves, examples of grace and dignity. We loved them, respected them and tried to emulate them. Our current success or failure in this respect is entirely our responsibility and not their failing.
It is not just sad but tragic to see the 'interaction' that happens sometimes between grandparents and their grandchildren who were born and grew up in the West. You can see both making a great effort but in vain. The older ones usually make much more effort than the youngsters who like most of their generation are short on patience, especially towards the elderly who they were never taught to respect and don't really have any bonds with. Distance and cost of travel had a big part to play. Travel to America or Australia is neither quick nor inexpensive and not what children or their parents could afford at the time when the grandchildren were young and impressionable. By the time they have the money to afford to travel with the family either way the children are already grown and the only impact that the 'home country' has on them is, "O My God! Look at the dirt, traffic, mosquitos, cows on the street, smoke, power outage, Wi-Fi is so slow or God Forbid, No Wi-Fi." Meeting grandparents, talking to them (about what? Old stories about people they didn't know, long dead, whose names even they can't pronounce?), eating food (It is so hot!) and then getting sick. Well, all that means is that one visit is about all that those children will do willingly. Then they are off to college and that is that. Believe me, I have seen this story so many times, that it is not funny. Parents going to live in the West is equally tragic. They don't fit in; they have no friends and how much TV can you watch especially when it doesn't have your favorite programs? For many it is almost like being in prison, albeit a gilded one. And for the children who went to the trouble of bringing them to live with them in America or Australia or Canada, it is a huge let down. Relationships sour and get strained. Misery all around.
What adds to the difficulty is that the grandchildren and grandparents don't have a common language (especially the grandmothers) and where the elders speak English it is naturally with an accent, which for most Western youth is a matter of either amusement or irritation. Since the youngsters grew up in the Western culture, they are clueless about social taboos. Parents are either too busy to teach or don't see the point as they have broken off from their 'home country and culture' permanently and have little respect for it. The youngsters are therefore ignorant about things that their grandparents may well expect them to know about. For example, I have seen innumerable times, grandchildren sprawled on a couch with their sneakered feet on a table on which there are also books and pointing towards the grandfather who is sitting across them. Even worse, I have seen children putting their schoolbags on the floor of the car or bus they are travelling in and sitting with their shod feet on them. I won't go into the details of how many social taboos are crossed and how this behavior in our Eastern cultures amounts to gross disrespect. Those who understand what I am saying, will see my point. Those who don't, underline and illustrate it. Gradually the gap between the older and younger generations grows into a gaping gulf, too wide to bridge. Too many compromises are called for; too much of new learning which there is neither the time for nor patience and people related by blood and genes become strangers to one another. Each is helpless in his own way. Each is lonely surrounded by his own family.
Life has now come full circle for our generation. Those who left their homes, cultures, countries and families and lived and worked in alien environments. It is now time to consider our own relevance to the next generation. Do they need us? Can we communicate with them? Do they understand us, and do we understand them? Are there any real connections between us apart from the fact that we share genes? Genes have no feelings; we do. What will happen to us when we sit in the chairs that our parents spent their last hours of life in, staring at blank walls? I realize that perhaps I am being a bit dramatic but better to be prepared than to be sorry.
There is a solution and I am going to tell you about it in my next post.