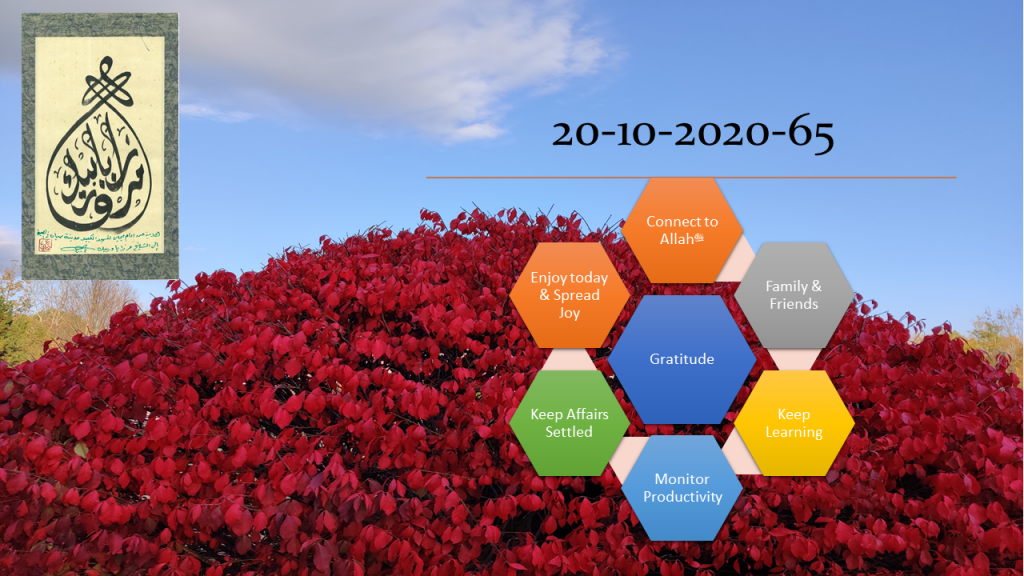 Today, October 20, 2020, I am sixty-five years old. Ten years ago, on October 20, 2010 when I was fifty-five years old, a friend suggested that I should write about the lessons I had learned in life.
So, I wrote a book called, "20-10-2010-55, Fifty-five life lessons."
Today, I decided to tell you one lesson for every decade of my life and a last one as a bonus for the five years after 60.
Lessons
Gratitude: the fundamental framework on which all happiness is based. You want to be happy? Be grateful. Have a selective memory. Remember the good and forget the bad. Learn the lesson, but don't remember its packaging. I am grateful, first of all, to Allahﷻ for all that He gave me and even more, sometimes, for what He chose not to give me, even though I begged Him for that. With the benefit of hindsight, today I thank Him for doing what He knew was best for me.
Gratitude also to all those wonderful people in my life; family, friends and sometimes, strangers, who added value to me in ways that I couldn't imagine. Those who gave and those who didn't. I am grateful to all of you for all that you did. Thank you for being there; for happening to me and for leaving your imprint in my life. I am wealthier for it in ways that I can't describe. I remember all of you.
2. Family & Friends: I realize, have always done, the value of family and friends. I have been blessed with the best in both aspects. People who are unique, who are kind, generous, compassionate, honorable and fun. I have not one but many faces for each of these terms. They enriched and continue to enrich my life and I value them over and above everything else. I learnt to value my friends, even more thanks to some who changed. For reasons that I can't fathom, some changed and became distant. Some left. I tried my best to try to understand why, to make amends if the fault had been mine. But I couldn't understand. I don't know if they understand the reasons themselves. But for me, that made me value those who remain in my life, even more. I love you all, more than I can tell you. And I know that you know.
3. Keep learning: About a month ago, I started learning Classical Arabic. I recommend that for anyone who is masochistic and likes to torture themselves. Arabic grammar is as close to having your nails pulled out one by one followed by your teeth, without anesthesia, as it can get. But learning a new language is a good way to keep the Big A away and to ensure that your brain gets the exercise it needs to remain alive. I am not mugging for any exam. I don't intend to get a job as an interpreter. I am learning for the fun of learning and I enjoy the journey. At least that is what I tell myself, just now. Keep learning, because you remain healthy as long as you learn something new.
4. Monitor productivity: This is something that I have always done, ever since I set off on my own in 1994 in the world of entrepreneurship. I knew that unless I monitored myself, I would not be able to measure my progress. I learnt also that having numbers to what you learn and contribute is a competitive advantage. Works wonders when you need to explain to a client how you can add value to them. This year, 2019-2020, I taught 277 Islamic classes, delivered 26 Friday lectures, delivered 35 lectures and webinars on leadership topics, delivered 365 Fajr Reminder lecturettes and wrote two books. One on my days in the tea plantations and the other, my sixth book of Friday lectures (Juma Khutab). I am happy to report that Covid induced confinement has not reduced my productivity.
5. Keep all affairs settled: No loose ends. We all die one day. Covid has brought that home even to those who lived as if they would never die. It is a very good idea to ensure that when our time comes, we don't leave those who remain behind with problems and uncertainties. Write your Will. Ensure that your heirs know what they need to know and that all your affairs are settled and in order.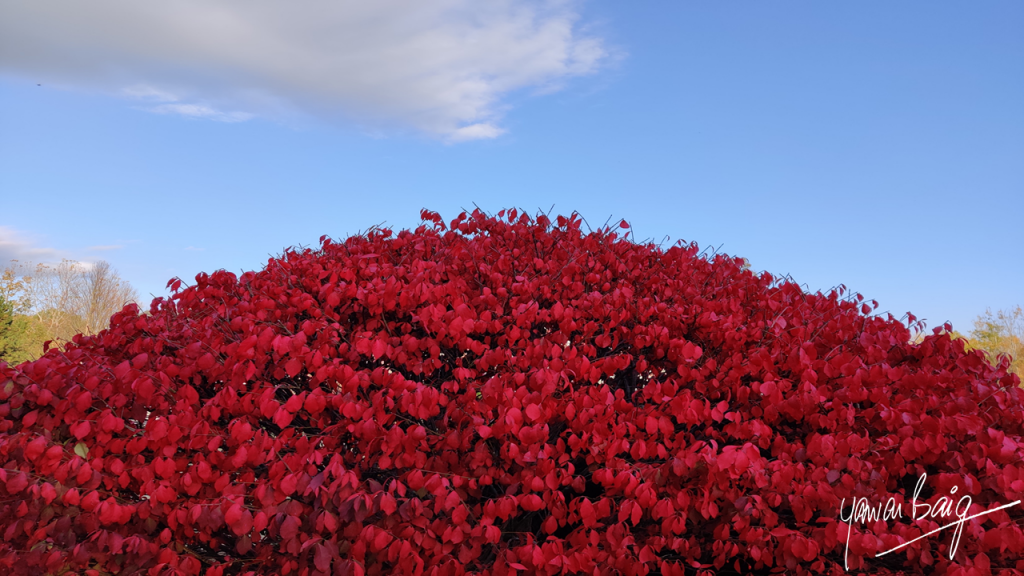 6. Enjoy today: It is a beautiful day in Fall, today. I can see the fabulous colors of leaves that announce the approach of winter. I see squirrels collecting nuts, geese gathering to fly South, Monarch butterflies on their migration, everyone busy preparing to face possible hardship. I enjoy what I am blessed with and prepare for what lies ahead.
7. Accept grief and loss: This year I lost several very dear friends. Zulfi who was like my son. Moin Qureshi who was like my brother. Nawab Nazir Yar Jung, my mentor, in loco parentis and lifelong friend. Ikram bhai, my dearest friend and Fajr Musalli in MHMIC as long as he could come. There are more but it is not my purpose to list everyone. While I grieve for every one of them, I recall the wonderful times we spent together and thank Allahﷻ for granting me their company and the memories that entailed. Thankfulness for the time, takes the edge off the grief. The memory remains, only to be honored and enjoyed.
My final lesson is to continue to strengthen my relationship with Allahﷻ to whom is my return. A day that will come as surely as the sun rises every morning. I ask Allahﷻ who gave me all that I am grateful for, to grant me His Mercy and Forgiveness, because He is the Most Merciful and loves to forgive. I send salutations on His Last and Final Messenger Muhammadﷺ and wish you all the very best in this world and the next.