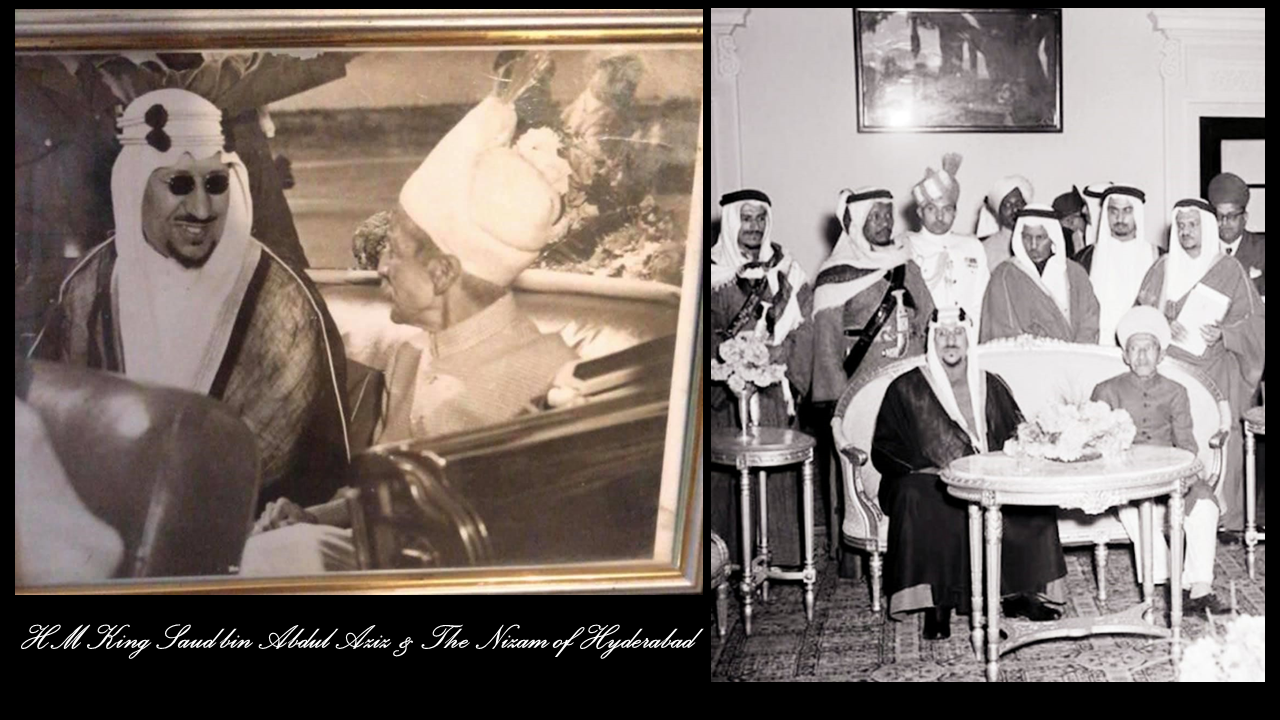 A dear friend of mine sent me two historical photos of King Saud bin Abdul Aziz A'al As-Saud and HEH Mir Osman Ali Khan, Asaf Jah VII, Nizam of Hyderabad. The photos came with this caption note: King Saud bin Abdul Aziz A'al As-Saud who ruled Saudi Arabia from 1953 till 1964 visited Hyderabad India in 1954 only to meet Nizam of Hyderabad Mir Osman Ali Khan to thank him for the great monetary help given by Nizam Mir Osman Ali Khan for the maintenance of Harmain Sharifayn (Makkah Mukarramah and Madinah Munawarrah) from 1911 till 1954. The Nizam built more than thirty grand buildings around Masjid al-Haraam in Makkah Mukarramah and Masjid un-Nabi in Madinah Munawarrah for the pilgrims visiting these sacred places for Haj and Umrah. The Nizam of Hyderabad was the largest donor for the maintenance of Harmain Sharifayn till 1954 until the Saudis got Petro-dollars.
I thought I would add something to these memorabilia. The Nizam of Hyderabad, Mir Osman Ali Khan, Asaf Jah VII was responsible for the electrification of the Haramain Shareefain. The first electric lights in the Haramain were installed by Hyderabad State. My grandfather, Mohammed Asadullah, was the Nazim, Umoor-e-Mazhabi (Director, Ministry of Religious Affairs). On two occasions he was deputed by the Nizam to lead a delegation of pilgrims for Haj. In Saudi Arabia he was treated as a guest of the State and was granted audience with His Majesty King Abdul Aziz Ibn As-Saud. His Majesty invested him with a robe of honor (Khillat), invited him to participate in the Ghusl (Ritual Washing) of the Ka'aba and was given a piece of the Kiswa (ornate fabric cover) of the Ka'aba as a relic and memento of his trip. We have that in our home, Aziz Bagh, in Hyderabad. Sadly, the Nizam himself never did Haj and to the best of my knowledge, neither did any of the major nobles of Hyderabad. The sole exception (and I will be very happy if someone can correct me) was Nawab Wali ud Dowla Bahadur, who went for Haj and died there and is buried in Al Baqi in Madina.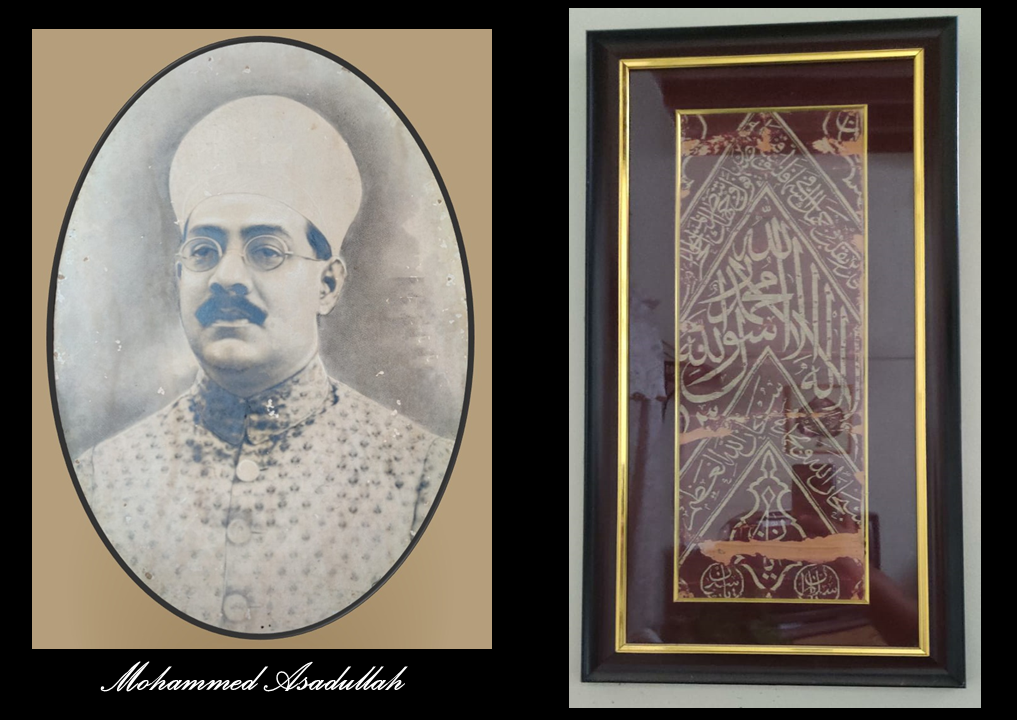 A sequel to this story is my own which I want to share with you. It was 2008. I was on the treadmill in the gym in Hyderabad when my Nokia phone rang. I answered the call and it was the Visa Officer from the Saudi Embassy in Delhi. I couldn't hear him thanks to the deafening music in the gym, so I got off the treadmill and went out to talk to him. He said to me, "Shaikh we want to invite you to speak at the International Haj Conference in Makkah which is held just before Haj. Would you be able to accept our invitation?"
I pinched myself to ensure that I was alive and not asleep. I was and wasn't. The International Haj Conference is a calendar event, to be invited to speak at which, is not something that I would have even dared to dream of. I hastily agreed before the man changed his mind. I asked him what I needed to do about getting a visa. For the uninitiated, getting a visa to Saudi Arabia is one of the most time consuming and complicated processes you can imagine. He replied, "Shaikh, we are inviting you. You don't have to do anything. Just send me your passport and we will issue the visa."
One more pinch. Yes, this was happening to me. "Will I be able to do Haj also? And what about my wife? Can she accompany me on this trip?"
"Shaikh, you are embarrassing me. We are inviting you with your wife. And you will be a guest of the Kingdom of Saudi Arabia for Haj. Please send your passports to me at the Saudi Embassy in Delhi and we will take care of everything."
But I had a problem. I was traveling for a lecture tour to Malaysia in two days. Even if I express couriered the passports to him in Delhi, there was no way I could get them back to travel as scheduled. I said this to him and he said to me, "Shaikh, please do me a favor. Please get on a plane to Delhi tomorrow morning and come to the Embassy. I will meet you and we will have a cup of tea and you can return the same day with your visas. How's that?" That was perfect and that is what I did. I arrived at the Saudi Embassy the next day. I was met and escorted to the office of the Visa Officer, who I had been speaking to. He welcomed me, sat me down, plied me (had me plied by his bearer) with Arabic Ghava and dates and called his assistant. He asked our passports and said to the man in Arabic, "Shaikh has been invited by the Ministry of Haj to speak at the Haj Conference. Please issue visas for him and his wife as our guests and make all arrangements for their travel and hospitality with full protocol."
The man disappeared with the passports. Meanwhile the Visa Officer and I chatted about my stay in Saudi Arabia in 2003. I started to tell him about my consulting and leadership training work. He said to me, "Shaikh, don't bother to tell me. We probably know more about you than you do. Your name was suggested to us as a potential speaker last year. As this is a very high-level conference, we have to do a full investigation of all invitees. If you had not come out clear in that, you would not have been invited. But Alhamdulillah you are totally cleared to the highest level." It was several weeks later that I realized what 'highest level' meant. But let me not get ahead of myself. I laughed at his statement and said, "I am certainly very relieved to hear this." A few minutes later, the assistant returned with our passports and instructions to Saudi Arabian Airlines to issue our tickets.
In due course we boarded the plane and the 'dream trip' began. We were welcomed on board and treated with great courtesy and hospitality. We landed in Jeddah and when the door opened there was the ubiquitous Saudi youth holding a placard with my name in Arabic and English. His name was Hani. I say 'ubiquitous' because there seems to be an endless supply of them. They all look alike wearing a white thobe and ghutra, talk non-stop in Arabic only, don't know a word of any other language, are very good natured, extremely aggressive when they need to be, one hand holding their mobile phone and the other, a cigarette. In this case he didn't have a cigarette as smoking is not permitted inside the airport in Jeddah. Hani escorted us into a lounge, pointed to the ever-present Ghava and dates and took our passports. He disappeared and reappeared before I could decide if I wanted to drink the Ghava or not. He returned the passports to us, duly stamped, and took us to the luggage carousel. There our bags were the first out. Hani gestured to a porter who took our bags while he took charge of my cabin bag. And off we went out of the terminal to find a brand-new GMC awaiting us. He opened the rear door and welcomed my wife and me to board the vehicle. We did. Hani got in with the driver and off we went to Makkah.
All Saudis are born with a car key in their hands and drive as if they are being chased by the Spirits of Hades. But maybe it was the official plates or something else, we were never stopped for speeding. We reached Makkah in record time and arrived at our hotel, Le Meridien, having been waved through the many roadblocks which are a feature on Saudi cities, especially Makkah at the time of Haj and Ramadan, to regulate the huge peak in traffic. But with our escort we had special status and so no delays. Hani told us to check in, freshen up and come down to the lobby. The Front Office Manager escorted us to our suite; bedroom, living/dining room, two bathrooms; luxurious to say the least with all the frills that come with such accommodation. We freshened ourselves and went down to the lobby and there was Hani, with his big smile and said to me, "Are you ready to go for Umrah?" Yes, indeed we were. And off we went. Once again, the special status helped no end to beat the crowds. After completing Umrah, we agreed to meet at the McDonalds in the apron of the Hilton. From there our friend took us back to our hotel. The distance between the two hotels is not much but the crowds make the going very slow. But when you are ensconced in a GMC with a local driver and escort, all you do is sit back and thank Allahﷻ for His Mercy.
The next two days I was busy with the conference. All very formal and enjoyable, if you like conferences. I don't. But I was there for Haj and the conference was the means. That night, Hani said to me, "Tomorrow morning after breakfast we will leave for Mina." Since we had done Haj before this time, we were aware of how things work i.e. when you leave for Mina, you put all your luggage in storage in the hotel and vacate your room as you would be gone for 4-5 days. Then when you returned to Makkah, you would be given usually a different room. So, I asked Hani, "Where should we leave our luggage?" Hani looked surprised. He said to me, "Shaikh, you are our guest. That suite is for you. Leave everything as it is. You can return to the hotel any time you want to shower or change or whatever. The car and driver and I will be with you." I was delighted and astonished. I was not used to such treatment. But then when had I been a royal guest?
The Haj was like a dream. We, there were thirty-five of us, scholars from many different lands, all invitees to the Haj Conference, boarded two luxury buses and went from Makkah to Mina and the next day to Arafah. Both journeys took us minutes where others take hours. We had special traffic arrangements and police escort outriders and breezed along. There were special accommodation arrangements for us in Mina and Arafah; luxurious air-conditioned tents with carpets, sofas, a buffet on which I counted over a dozen desserts. Tea, coffee, soft drinks, snacks were on, throughout the day and night. And then the main meals, each one a study in hospitality. Delicious food beautifully presented and served with great love and respect.
The highlight was in Arafah. It was late morning when one of the scholars suggested that we all make dua. We were all sitting in a circle in the main tent and one of them started to make dua aloud. Arabic is the language of dua. Arabs constantly make dua in their normal speech. 'May Allahﷻ grant you a long life', 'May Allahﷻ protect you', 'May Allahﷻ be pleased with you' and so on, are all part of polite Arab conversation. So, when a scholar starts to make dua in Arabic, it is something special. When he is joined by thirty-four more, it is out of this world. I was hugely privileged that I was a beneficiary of this spiritual bounty. Another personal highlight for me was a call from my dear friend Ebrahim bhai Gangat (May Allahﷻ have mercy on him) from Cii Radio asking me to tell the listeners about the scenes that I was witness to, where Muslims were connected to their Rabb (Creator, Sustainer and Protector), begging Him for His Mercy and Forgiveness and for His Bounty. A scene that our Prophet Muhammadﷺ told us, Allahﷻ shows those around His Glorious Throne, with pride and love. I can still hear Ebrahim bhai's booming voice, full of energy and love. At the end of all that I had to say, he said as he always used to do, "Yawar bhai, please recite some Qur'an for us." He always used to end my interviews with this. May Allahﷻ bless him and forgive him and enter him into Jannatul Firdous without reckoning.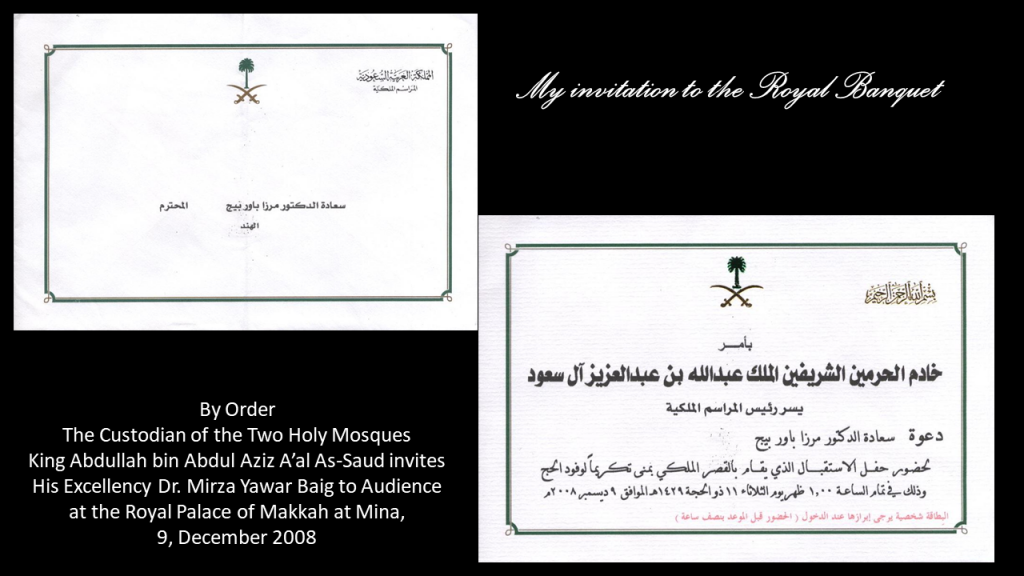 After Arafah, we returned to Mina by way of Muzdalifa. There as I was resting in my bedroom, I was paged. It was an official from the Royal Palace in Mina. He had a register in which he requested me to sign, in token of having received the invitation which he brought. It was an invitation in the name of His Majesty King Abdullah bin Abdul Aziz A'al As-Saud (May Allahﷻ have mercy on him), the noble son of the King who received my grandfather, inviting me to a banquet at the Royal Palace in Mina. This was totally unexpected. I didn't expect to be invited to a Royal Banquet, but there it was. The man then advised me about the protocol with respect to meeting the King. It was far simpler than I would have imagined. We were to board our bus the next morning minus our mobile phones to be driven to the palace where the King receives visitors. There we would be ushered into the Audience Hall. Once everyone was there, the King would enter. Then we would be invited to file past him and he would shake hands with each guest. From there we would go into the banquet hall where we would have lunch and then return to our accommodation.
The next day at about midday we boarded our bus and drove the short distance to the Palace. For those used to the ornate palaces in India with domes and minarets and arches, this palace was very utilitarian. Straight lines, more like a hotel. We drove up a winding driveway bordered by date palms and a grass verge. Some fountains playing as the bus turned into the porch. There we were received by the Protocol Officer and ushered into the lobby. The lobby was huge; well, it is a palace lobby after all. The center piece was two scale models of the Haramain Shareefain; Masjid Al-Haraam on one side and Masjid An-Nabawi Ash-Shareef on the other. Both were very beautifully done. From there we were led into the masjid where we prayed Dhuhr (the midday prayer) and then into the Audience Hall.
The Audience Hall was a large rectangular room that could seat perhaps five hundred people with chairs placed in rows facing the wall at the end of the hall. On the center of the wall was the Saudi coat of arms. Along the wall were chairs, exactly like the ones in the rest of the hall; facing us No throne: not even a chair that was more ornate or grand than the others. We sat. Bearers came along with cups of Zamzam water and Ghawa and dates. In total there were about three hundred invitees. That is what I estimated from a rough calculation based on the number of chairs in each row and the number of rows. We didn't need to wait too long.
About five minutes later, the door on the side at the end of the hall opened and seven people walked in. If I had not known the King by sight, there was no way to say who was the king and who was a subject. Everyone was dressed exactly alike. The King came to the chair under the coat of arms and said, "As salaamu alaikum wa rahmatullahi wa barakatuhu. Marhaba bikum." And then he made a short speech, welcoming us who he called, Dhuyoofullah – Guests of Allahﷻ. The Protocol Officer signaled to us to move forward. As each person came up to the King, he shook his hand and said a word or two to him. He remained standing through this entire time, which given the number of people, was long and tedious, to say the least. He was 83 years old at that time, but when he shook my hand, his grip was powerful, and his hand felt like the hand of a working man. He passed away in 2015 at the age of 90. I said to him, "As salaamu alaikum wa rahmatullahi wa barakatuhu." He replied, "Wa alaikumus salaamu wa rahmatullahi wa barakatuhu. Hayyakallah. Taqabbal-Allah Ibadaatukum." He held my hand in his strong grip as long as he spoke and then he invited me to go into the banquet hall and have lunch.
While all this was happening, the dominant thought in my mind was that if only I had a way of photographing this meeting, I could show it to my mother in Hyderabad when I returned. After all I don't meet kings every day. But there was no way to do that as not only did I not have a camera, but my phone was also in my room at the camp. There was Saudi TV onsite of course but what good was that to me? Anyway, I followed those before me into the banquet hall. There I discovered Shaikh Jibreel from Cape Town, an old friend and we sat together at one of the tables. The center piece on each table was a full roasted sheep done in the traditional style, Lahm Mandi. Meat so tender that if you glared at it, it would separate itself from the bone. Resting peacefully in a bed of yellow aromatic Basmati rice laced with saffron, dotted with boiled eggs. Surrounded by different condiments and vegetables. Then there were salads, and Humus, Mutabbal, and all kinds of bread. After we ate, came the desserts, starting from the traditional Kunafa and Ummali to different kinds of Baclava, pastries, cheesecakes and so forth. Then came the tea and coffee accompanied by fresh fruit of every kind. It was a delicious, sumptuous meal. Part of the protocol was that you remained seated until the King got up and then you followed him out to the reception lobby and waited for him to leave before you left. During all this you maintained a respectful distance. To my Indian perception, used to political minions and even minor bureaucrats in my country being escorted everywhere by guards brandishing submachineguns, it was strange indeed to see a king, without a single bodyguard or weapon in sight. No bowing and scraping. No ostentatious display of wealth or officiousness in demeanor. Just good manners as he easily moved among his guests, talking to this one or that as he moved towards the doors. I managed to keep to the front as I wanted to see him leave, imagining great pomp and splendor with maybe bands playing and mounted lancers. Instead a black Mercedes 500 SL drove up. The driver remained seated behind the wheel. Someone opened the front passenger door and to my great astonishment, His Majesty King Abdullah bin Abdul Aziz got into the car, sitting next to the driver. The driver was uniformed with the palace headgear and so, it was not his son, driving dad to work. This was one very simple and down-to-earth king.
Once the King had left, we boarded our bus and returned to our camp. There I had an amazing surprise. To begin with there were four missed calls on my phone from my mother in Hyderabad. My father had passed away the previous year and my mother was recovering from that bereavement. My sister was with her, but four calls had me seriously worried. What had me even more worried was because my mother never called anyone. We would call her everyday and talk to her, but she was a very undemonstrative and unemotional person. I called her immediately and asked her if all was well. She said, "Main achchi hoon. Tum Badshah say haath milarahay thay. Main dekhi." (I am well. I saw you shaking hands with the King.) I thought that she had seen me in her dream. "Aap kaisa dekhay?" (How did you see?) I asked. I was astonished to say the least, because for one thing, my mother didn't even know that I was going to a banquet at the palace or that I would be presented to the king and be able to meet him. What is more, she was in India with a time difference of 2 hours and 30 minutes. She said that she got up from her afternoon nap and went into the sitting room and turned on the TV and there I was, shaking hands with the King of Saudi Arabia. She said to me, "Your grandfather (her father) had met his father and now you met him."
What can I say? I only had tears of gratitude in my eyes, thanking Allahﷻ for granting my wish, unasked. After all what is the probability of the TV turning on to the Saudi channel, which nobody watched in our home, because nobody speaks Arabic, at the exact time that I was shaking hands with the King? The whole meeting took less than two minutes at the very most. Yet my mother caught it, totally without even knowing what it was that she was going to see. To this day, I marvel at the mercy of Allahﷻ.