There are two kinds of correctional institutions. One is called prison. The other one is, but is called marriage. One has a specific term you must serve. The other one is for life. In one you get paid to be there. In the other, you pay to be there. Both specialize in trying to make you something which you don't want to be but which the powers that be have decided, that you must become. You have two choices in both. Fight to the bitter end. Or succumb. There are those who are stupid and those who are smart. The stupid ones' fight and fight until they can't fight any longer. If they are lucky, they die fighting. If not, they gradually weaken and end their days in forced submission, their hearts aflame and fluttering like caged birds, yearning to be free, even if it is by death. The smart ones decide early enough that prisoners that fight can never win. They system is stacked against them. So, either they escape. Or they learn to like the smell.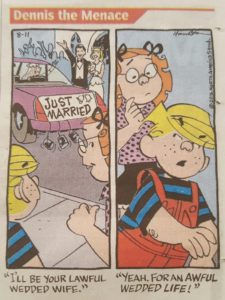 The worst, most degrading, most toxic thing in a marriage is to live under the cloud that you are not good enough. Many children live this life during childhood but with the consolation that they didn't ask for the parents they got. But what is the consolation for the adults who get into such a situation voluntarily? Living this life is a constant barrage against your self-esteem which can have only one end – bitterness and hatred. But it is amazing how few of those who have power, realize this.
That is why I called it a 'correctional institution'.
It appears when you look at some marriages that the only reason one person married the other was to change them into something that was compatible to their imaginary model. I say 'imaginary' because I have yet to come across a spouse who had a model which was both positive and negative. All models that spice want their spice to become are all- positive as defined by them. That is like wanting a 'white Christmas', in the Sahara Desert. It is by nature and definition impossible. Trying to do something which is impossible, is to set yourself up for failure. The results are always, without exception, catastrophic. Yet we continue to do this, generation after generation.
I believe it is for two reasons; arrogance and ingratitude.
Arrogance because one of the spouses considers themselves to be superior to the other and makes it their life goal to 'improve' them and bring them on par with themselves, and so make them worthy of being their spouse. What they forget is that they married someone they liked. They forget what they liked. They are only conscious of what they discovered after the honeymoon; that which comes with the packing and which they didn't realize because they didn't read the fine print of the Creator. So, they set about trying to change that. To do that, they must necessarily be dissatisfied with what they have because it is dissatisfaction with status quo that drives every improvement or correction initiative. They thus condemn themselves to ignoring the good that is also in the package because they are so focused on the 'bad'. That they have cursed their own life, they are oblivious to. That they have become the curse in the life of the spouse, they don't care because they consider themselves to be a blessing and not a curse. And since they are neither interested in 'customer feedback' nor are inmates of correctional institutions empowered to give feedback, the opinion of the subject of their attention is immaterial.
Ingratitude because every person has both positive and negative qualities in them. This hardly needs reiterating but it is so often forgotten or ignored that I must state it upfront. Imagining that something in the spouse is negative because you don't like it, is arrogance. Ignoring the positive in them and treating it as something that is your birthright is gross ingratitude. Both these attitudes are damaging for the other because it is as if his/her entire existence is being judged worthy or not on one parameter alone – does it please the other person. Before the 18th century that used to be called 'slavery'. I would submit therefore that if you find that some of what I have said applies to you, please reassess your marriage and ask yourself if you are in a marriage or running a correctional institution?
To be brutally frank, marriage is actually a 'honey trap' that exists for the propagation of the species. It exists for one reason only, that children may have a stable nest in which to grow to fledgling-hood. All the rest is fluff to make it look attractive to those who are going to do the work and pay for it. Anyone who thinks that marriage is for companionship, supporting each other and so on can easily see that all that costs less to do by itself without signing your warrant for lifetime incarceration. A friend, your therapist, a one-time gift, all cost less, have no complications and leave you feeling good and positive. I have yet to see someone unhappy after meeting a friend or giving a gift.  
So, children come into the world with two parents to care for them, change nappies, pay their bills, buy them the latest gadgets and set them up in life to believe that the world owes them a living. Children born without two doting parents imagining that their piece of meat is God's gift to mankind never learn this lesson and live in the world knowing that they must struggle to succeed. Hardship that doesn't kill you always strengthens. So, those who suffered while growing up always beat the living daylights out of those who lived the sheltered life; just as the tree that grows in the crevice clinging to the rock weathers every storm while the one with a lush canopy and shallow roots, is knocked flat by the first gale. If children were not in the equation, marrying someone and pledging to care for them all your and their lives, subjugating yourself to their demands and considering yourself and your life a success or failure based on their subjective judgment, makes no sense at all.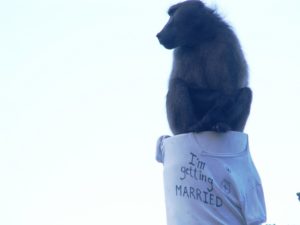 Go look in the mirror and tell yourself that the only one in the world who thinks that you are an unqualified blessing is perhaps your mother and that too, perhaps. Tell yourself that you married your spouse because you liked them, not because you found them when they lost their way to their shrink. They didn't come to be changed. They came to be friends, to share their lives, to slog their butts off to keep you in the style to which you have become accustomed. Surely that deserves a 'thank you'? Look at their good side. The side you married them for. 
Get a selective memory that doesn't stockpile all the garbage that every human relationship generates. Remember the good. Get amnesia about the bad. Ask not what your spouse can do for you. Ask what you can do for your spouse. Thank you, President Kennedy. And finally remind yourself that your spouse is human and whatever he or she came with or without is what any other human would come with or without. If you don't believe me, ask Elizabeth Taylor. And if you don't like what human beings come with, marry a gorilla.
Does that sound crazy? You bet it is. So, pray that your spouse remains crazy and never gets cured or he will wake up to the fact that your correctional institution has no walls or gates.