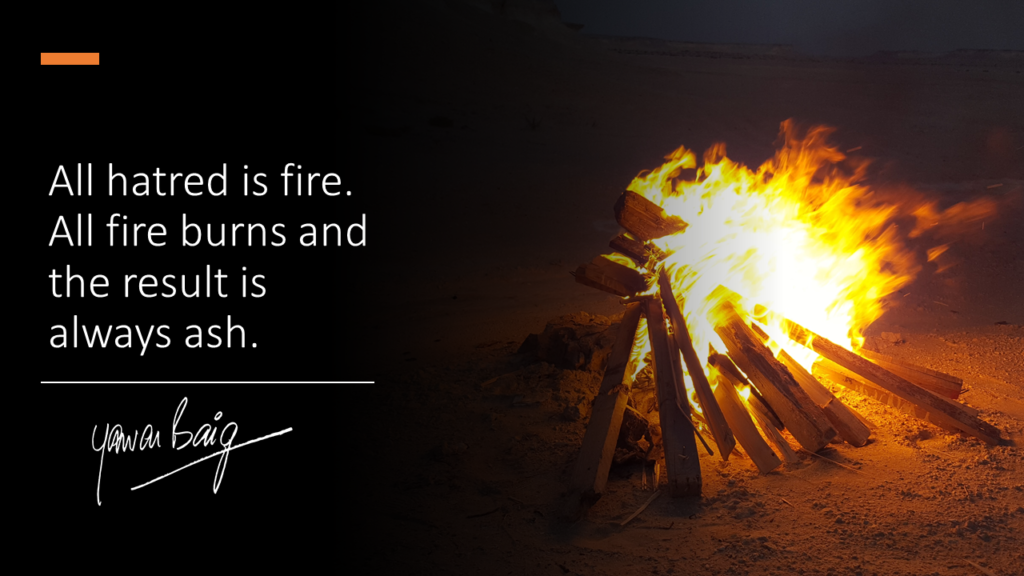 Difficult times and the most difficult thing is to reflect on why in 2021/22 we still have to say Black Lives Matter or Apartheid is illegal or Women must get equal pay, Caste is racism and so many more.
Let us carry on the fight. Let us pledge to fight all hatred, all discrimination, all racism, all apartheid, no matter where it exists. All hatred is fire. All fire burns and the result is always ash. Say this loudly, clearly, and always. Say it especially if you are the only one saying it. Because if even you fall silent, then who will say it?

I don't expect to see resolution in my lifetime, but then, the point of fighting is to be able to say at the end of the day, "It was a good fight."
It doesn't matter if you win or lose. What matters is which side you fought on. That is why I continue to speak and act to build bridges of human dignity and kindness. For that is all that matters; kindness. For all people of faith, that is the universal message. Be kind.
I don't fight to change them. I fight so that they don't change me.
Give me happiness
It's yours. Take it.
From the tear which turned into a smile – because of you
From the hope that arose from despair – because of you
From the pain, taken away – because of you
Companionship in loneliness – one phone call away
Knowing that someone cares – because of you
Hopes turn to aspirations, plans, strategies, success
Fears combated, they are stronger, full of hope
I work from home, which is tough
Until I realize that it means I have a home and I have work
So where is happiness?
In gratitude, being thankful for what I have
Because I have that, which for others is only a dream
Because I can give, and I don't need to take
Because I can help, and don't need to seek help for myself
Because I receive the generosity of the Most Generous
To share with those, for whom He gave it to me
So, I can't give you happiness.
It's yours. Take it.