Money measures nothing except greed.
When money becomes the objective, misery is the return.
Service is the goal, the result of which is prosperity.
Money is an effect, a result. What do I mean? Well, you see, we live in a world of cause and effect. The fundamental rule here is, 'If you want an effect, work on the cause.' For example, peace is an effect; it is the result of justice. So if you want peace, then seek to ensure justice for all. If injustice prevails, peace can never come about because people will fight against injustice as indeed they should and peace will be disturbed.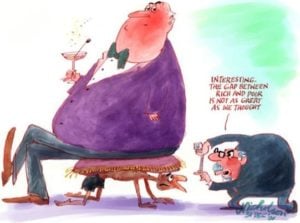 Similarly, money is the result of intelligent effort. The effort can be dishonorable or honorable. Both kinds yield money. One yields money coupled with anxiety, fear, disgrace, hatred, shame, and the ill will of people. The other kind yields money with respect, honor, goodwill, love, gratitude and the prayers of people. Your call which kind you want. Remember, the second kind is actually easier. And you will sleep better too.
Remember also that money is a measure of nothing except greed. It is what you do with money which counts, not how much you have. So seek to do something with money that has a lasting positive effect. That is what gives meaning to money and makes it a source of benefit to you and others and gives you an opportunity to leave behind a legacy of honor.
As the lyrics of the famous song by Abba go:
Money, money, money
Must be funny
In the rich man's world
Money, money, money
Always sunny
In the rich man's world
Aha-ahaaa
All the things I could do
If I had a little money
It's a rich man's world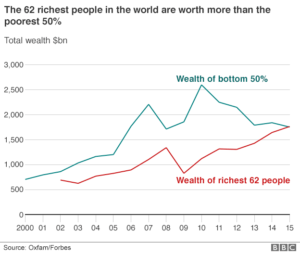 The biggest killer globally today is not war but poverty. And that is not the result of lack of resources but lack of compassion and concern. The fact that we have created a world in which 62 of the richest people own more than 50% of the global population, is not simply astonishing and shameful but very encouraging. Because what we created, we can change. That we must change it, is not something that needs emphasis. A world (or country) with a huge income and wealth disparity is less prosperous, less peaceful and less happy than a country where the income/wealth disparity is not so marked. It is in the interest of everyone, including the wealthy, that wealth is shared. That increases disposable income and buying power which translates into a stronger economy and more prosperity. Strangely the powers that be, who are supposed to be intelligent, don't seem to understand this and insist on cornering resources at the cost of the vast majority.