I read this article with great interest.
The final sentence is salutary. I want to add that whether governments or judges guard or curtail rights will depend on what we, the people, do about it. Active citizenship is not something that we are used to. We are still used to being the 'ruled', looking up to our elected governments (even calling them) our 'rulers'. That they are not rulers is something that still remains to sink in, both in our consciousness and theirs. So, they behave like feudal lords and we behave like serfs. We even have terms that stink of feudalism to this day, used by our administrators e.g. Collector's Peshi, Girijana Durbar, etc. There are many others but this is sufficient to illustrate.
That they exist because we put them there, will help us to understand our own responsibility for whatever is happening in the nation. Then we will change from being complainers to solution seekers. That is the real meaning of democracy, which I hope we will be able to demonstrate.
Take the much mentioned 'demonetization'. I am not going to talk about its economic effects. Many, more qualified than I, have analyzed it threadbare and all that our media has been able to say is that it will not affect BJP's chances of being elected again in 2019 because Modiji has changed his narrative. Little do they realize what that sounds like. Is election a matter of someone creating or promoting a story and the listeners reacting to it like rats to the pied piper's tune? But that is the result of living in two worlds, democracy in theory (in the mind) and feudalism in reality. As I mentioned, economists have written about demonetization and time has shown the truth of what they wrote; that it was a body blow to the economy for no valid reason at all.
What is far more significant in my view is the attitude and behavior around demonetization. It was a step taken by the in secrecy even from closest aides, all of whom expressed surprise before slipping their masks back on again. It was declared as a step taken by the Prime Minister on the advice of a man who is not a cabinet member or even in government. All to prevent owners of black money from escaping.
We are told that the PM believed him and took this step almost unilaterally and issued a proclamation that from midnight of November 8, 2016. Kings issue proclamations. Not elected leaders. Elected leaders consult their council of ministers and in a matter as serious as this, they consult a larger cross section of leaders of the public (Opposition), perhaps even the public themselves. After all, the two excuses for demonetization; curbing black money and funding of terrorist activity' are laughably inaccurate, as subsequent events have shown beyond all doubt. That is why the narrative was changed to, 'We did it to make the country a cashless economy.'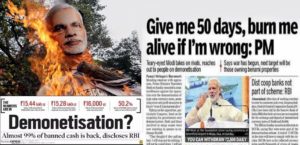 So why change it? Incidentally, can I see a show of hands from all those who received cash in their accounts from the government as a result of return of black money including that secreted in Swiss Bank accounts? Political parties need not respond because after all the sweetest part of the change was that donations to political parties were sought to be exempted from disclosure. That is when I decided to start my own political party, Tan Man Dhan Mukti Morcha – TMDM
² ©.
All donations welcome.
Well, India became cashless, but perhaps not in the way that the term 'cashless' is meant to be understood by the spin doctors.
To understand the 'cashlessness' of India, of we the people, ask the housewife who saved small change from spending money that her husband used to give her, for thirty years and had Rs. 3 lakhs. Suddenly, on November 8, she was promoted to the status of a black marketer, money launderer (take your pick or invent your own names). Her legitimate savings, the symbol of our culture of family responsibility, caring for the future of others, the very spirit of motherhood, became illegitimate for her. On the face of it, all she had to do was to go to a bank and exchange it for the nice new colorful notes. But in reality, she would have had to open an account, get a PAN card, deposit the money, answer a million questions about where she got it from (all based on the assumption that she got them through illegitimate means) and pay tax on it. Tax on money which her husband had already paid tax on. And of course, she would have to answer to her husband (in many cases, a fate worse than death) about how she had all this money but never told him about it. That is how she entered the cashless economy by becoming cashless herself. As I mentioned, I am not talking GDP or economic numbers. I am talking about the izzat (honor, self-respect) of honest people, their feelings, family dynamics, domestic power equations and the disempowerment of ordinary people, especially women.
To understand the 'cashlessness' of India, of we the people, ask those who died, standing in queues at banks. Of course, the dead tell no tales. India is perhaps the only country where something like this can happen, not once or twice but over one hundred times, unremarked. That nobody is called to account is not surprising when there is not even a demand that this should be done. I stand in line at the bank. Someone in the line before me, drops dead. They remove him. I move ahead one place and thank god for small mercies. What's remarkable? I am told that I am doing it for the nation. I am a vegetable, fish, eggs, banana seller, standing in line hoping that the bank will not give me a hard time asking me to open an account, PAN card and whatnot. I have enough to worry about. If someone dies in the line, well, what can I do?
To understand the 'cashlessness' of India, of we the people, ask the people who had no notes to exchange because all their savings were in the bank already. But after November 8, when they wanted to withdraw some cash, they were told that they couldn't do so. Officially there was a limit to what they could withdraw. In reality, they couldn't withdraw anything at all as the bank had no currency notes to give out.
"How long will this last?"
"God knows", said the banker.
"How can you stop me from withdrawing my own money?"
"I am not stopping you. This is the instruction we have received."
"God knows", said the banker.
I go to the grocery store with my new colorful Rs. 2000 note. I need groceries worth Rs. 500.
"No!" said the grocery store owner, "You need groceries worth Rs. 2000; you just don't realize that."
"I mean I don't have any change to give you. No notes. So, take your change in cabbages or eggs. Just keep and eat them."
"How long will this last?"
"God knows", said the grocer.
I can report more such conversations but won't. I think this illustrates and all of you will recall your own experiences which match mine. That is why there's a shortage of atheists in India. You really need to believe in God.
To understand the 'cashlessness' of India, of we the people, ask those who till the land, labor from dawn to dusk on construction sites to feed their families, who sell food, provide services and add real value to people's lives. Ask the Istiriwala (mobile clothes ironing person), the Doodhwala (milk vendor), the Bayi (maid) who works in our homes, the Sabjiwala (vegetable seller), the Machiwala (fish seller); I can go on but won't. Not one of them had a bank account. Not one of them had a PAN card. Not one of them paid Income Tax. Every single one of them had a family to feed. Every single one of them had some savings put aside for a so-called 'rainy' day. Every single one of them suffered for no reason except that in our Feudal-Democracy (my coinage, please give credit if you use this term), it was proclaimed without warning that his savings were illegal until proven legal. He was guilty until proven innocent.
One good thing that happened because of this demonetization which I am very pleased about. It was proven beyond all doubt that there is no corruption in India. After all, did you hear a single story of a policeman, income tax official, customs officer, bureaucrat or politician standing in a bank line trying to legitimize his bribe money? Did you hear of any of them dropping dead from exhaustion or guilt? So, what does it mean? It means that all that we always hear about corruption is nonsense. There is no corruption in India. Nobody takes bribes. All government officers and officials pay tax on all income, upar ki aur andar ki. Like elephant tusks and teeth, khanay kay alag, aur dikhanay kay alag. I will leave this untranslated in the spirit of the line of poetry:
Tum samajh sako tho aansoo
What is our, we the people's, reaction to all this? Silence or complaining. In public, we are silent. In private, we moan and groan, we blame and crib. In both places, we take no action. And when we are asked why, we reply, 'What can we do? We can do nothing.' This warrants another couplet:
Kursi hai, tumhara yeh janaza tho nahin hai
Kuch kar nahin saktay, tho utar kyon nahin jatay? ~ Irteza Nishat
This brings me back to the beginning of my argument which is that if we want good governance in a democracy, we have to participate in it. Serfs have no choice and can complain. Citizens are not serfs, no matter what their elected leaders (called 'rulers' in India) may like to think. Citizens must act like citizens and take an interest in governance.
Today we have a situation where the Ruling Party is doing what it considers best for the nation. You can hardly fault them on intention. We have an Opposition which sits silently by and watches while it claims to be against the policies of the Ruling Party. Why? The Opposition is muzzled because everyone is afraid of skeletons in their cupboards being exposed. But what is the solution? Because in the end it is we, the so-called common folk who are paying the price; we and our children. True, we are paying the price of electing corrupt leaders for decades, but that is not a luxury we can afford. Shortsightedness is not an asset when you are driving a car at 70 MPH. Ours is going faster than that. No change without pain. Pain is not something you opt for but accept to escape death. Think cancer treatment. What is happening is worse than that. Cancer only kills you. This will kill you and your future generations. So, what do you want to do? Yes, you and me.
For all change begins with the man in the mirror.