It was 1983. I had just returned from Guyana and was looking for a job. A dear friend in Hyderabad, Mr. Nazir Latif, introduced me to his friend Mr. Mumtaz Ahmed from Calcutta (in the days when it was still called that) who in turn asked me to go to Chennai to meet Mr. M. A. Alagappan, the MD of CWS (India) Limited, a tea company with plantations in the Anamallais, Mango Range and Assam. Mr. Alagappan sent me to meet Mr. Ahmedullah, GM Plantations, who was based in Iyerpadi. I took the Nilgiri Express to Coimbatore from Madras (it was still called that) and then a bus to Valparai. I had been asked to get off at Rotti Kadai, just after Carver Marsh's statue at the top of the forty-hairpin bends that the road takes when climbing the mountain range called Anamallai Hills (Hills of the Elephants). I did as directed and found myself trudging up a narrow estate road with my bag on my shoulder. It was a Sunday morning, absolutely beautiful and sunny but not hot. As I walked up the slope, drinking in the scenery with tea and Silver Oak (Grevilia Robusta) trees on both sides, with the road falling away into the bottom of the hill on my left where I could see the top of a house and a tea factory. That house was where my friendship with AVGM (AVG Menon) and his wife Parvathy Menon, began.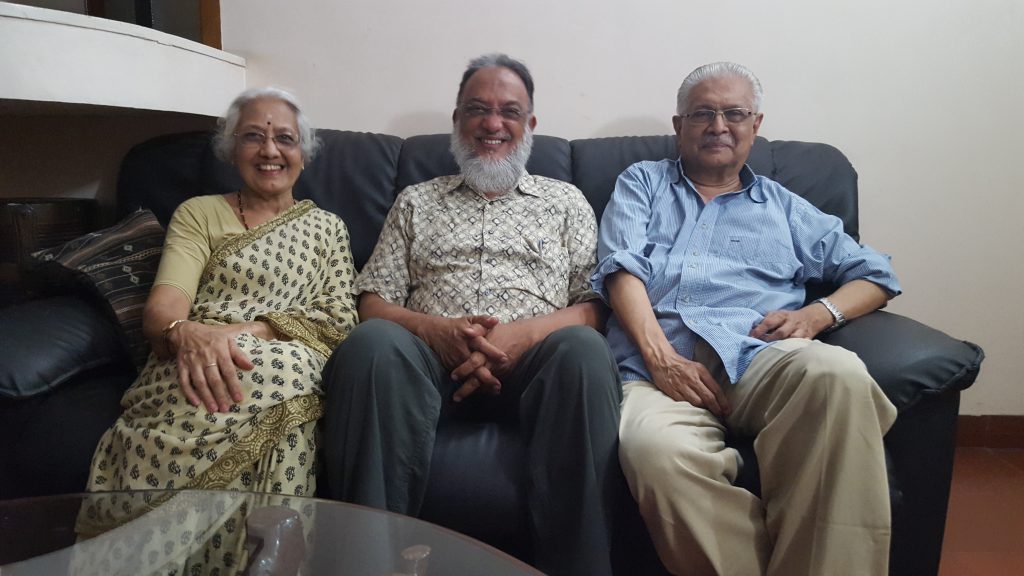 As I walked up the slope in search of Mr. Ahmedullah who I was supposed to report to, I saw an Ambassador car coming down the slope. I stepped aside to let it pass but it stopped, and a very distinguished gentleman in the back seat, rolled down his window and looked a question. I greeted him and said, 'I am looking for Mr. Ahmedullah. I am Yawar Baig and Mr. Alagappan sent me from Madras and asked me to meet him.' The gentleman said to me, 'Please get into the car.' I was very pleased at this kindness as the reality of a city dweller at 1000 feet elevation, walking up a slope at 4000 feet with a bag was hitting me. The driver turned the car around and we drove up and turned into a beautiful dream of a wooden bungalow with blooming rose bushes all along the drive and a lawn in the front with a center piece of a Bird of Paradise flower in full bloom. At the end of the lawn was an old stone wall at the edge of which were very tall Blue Gums (Eucalyptus globulus) trees with their characteristic bark sloughing off like a snake shedding its skin.
I got out of the car and turned to thank the kind gentleman and his wife who was with him only to see them getting off also. I hastened to tell them that it was not necessary for them to ring the doorbell for me and that I would see to all that myself. 'Thank you very much for the lift. Please don't bother to get off. I will go on from here', I said. The gentleman gave me a sardonic smile and said, 'I am Mr. Ahmedullah.' That led to a sumptuous breakfast and then we got back into the car and he and his wife, who had been on their way to Cochin, before I interrupted their journey, drove me down the hill to the house, whose roof I had already seen and introduced me to Mr. AVG Menon and his wife Parvathy. I was to stay with them for the night and present myself the next morning at the Estates Office for my formal interview. A great lesson in graciousness and hospitality which I received from Ahmed and Anees which drove home to me what I later stated in my lectures as, 'People listen with their eyes. They don't care what you say, until they see what you do.' I learnt many other things from Ahmed and Anees who are both very dear friends and before that, my elders and teachers. But this was the first of them. They could simply have driven me to AVG's house without interrupting their journey to Cochin. Instead, they took me home, fed me and made me comfortable and only then took me to where I was to stay the night.
To make a long story short, I went to the office the next morning for an interview where I met another wonderful person who is also a very dear friend, Mr. N. K (Nikoo) Rawlley. Ahmed and Nikoo interviewed me and I got the job of Assistant Manager, at a princely salary of ₹850 per month. I was posted to Sheikalmudi Estate on the other end of the Anamallais tea district from Iyerpadi. It is interesting to speculate that perhaps Sheikalmudi was the result of the Indianization of the Arab name, Sheikh Al Amoudi. Not too much of a stretch if one remembers that it is not too far away to Kodangallur from Sheikalmudi, down the Chalakudy Ghat, where Arab traders first landed in the reign of King Kulasekhara Perumal. Whatever be the origin of the name, to my great delight, by the time I joined a month after my interview, Mr. AVG Menon had been transferred from Iyerpadi to Sheikalmudi and was to be my first boss in planting.
I was billeted in the No. 18 bungalow. The number referred to the tea field in which it was situated in the LD (Lower Division) of Sheikalmudi Estate. I was in charge of LD. I didn't know the first thing about running a household, so Mrs. Menon took over. She stocked my food store, sent cooking utensils and crockery and cutlery from her house, until I got my own and kept track of what my cook, good old Bastian, was making for me and what he was spending on it. If it had not been for her brilliant management, I would have starved to death on my princely salary. But with her in-charge, I even had some money left over every month. Which led one day to me discovering, when I went to the bank to update my passbook, that I was the owner of enormous wealth amounting to nothing less than ₹500. That was my net worth and I feel the warm glow of that to this day. AVG and Mrs. Menon (she told me to call her Paro, but I can't do that to this day) took me to the Anamallai Club and introduced me to other people in the planting community. They invited me home frequently so that I was well fed and taken care of. Sometimes, when their daughter Jayshree was home from school, she would also accompany us to the Club and strangely a rabbit (Black-naped Hare) would run with us before the car, all the way back from Valparai. We would point him out to Jayshree and I can bear witness that it was a very athletic rabbit who ran all that way home to their bungalow. This happened only when Jayshree was in the car and we would point it out to her and say, 'See Jayshree, there it is again.' I think this was some magic associated with Jayshree alone.
For the next two years, before I was transferred to Murugalli, my day would begin in the Muster at 0600 reading AVG's instructions in the Muster Book, written in his very neat handwriting. Brief, to the point and sometimes quite terse. We carried out the instructions and in the evening, I would go up to the Estate Office to meet him and talk about anything important that had happened that day. AVG didn't just teach me all that I needed to know about planting, but about managing people which was something much more valuable. I remember once, complaining very passionately about some skullduggery that was going on, involving some supervisors and workers. AVG listened patiently and then asked only one question, 'Yawar, if everyone did what they were supposed to do, why would I need you?' I didn't say anything more, then or ever. I didn't want him to ask me that question ever again. He never needed to.
I was transferred to Murugalli as the Factory Assistant, the following year. Murugalli was an orthodox factory and we had Mr. Madhavan Nair as the Tea Maker. He taught me all about orthodox manufacture. It was then that the idea of a brand-new tea factory was floated, and the decision was taken to build the largest, most modern tea factory in the country which came to be known as Mayura. Mr. Ahmedullah was the originator of this idea at a time when the green leaf yield from the Sheikalmudi Group didn't warrant such a large factory with a capacity of 100,000 kilograms of green leaf per day. Mr. Ahmedullah's logic was that if you create the capacity, the estates will be forced to increase yield to feed the factory. Mr. AMM Arunachalam and Mr. M. A. Alagappan agreed and as they say, the rest is history. The yield of the estates went up from 1200 kph to 3000 kph with one of my divisions, Candura, yielding 4000 kph (kilograms of made tea per hectare).
When the factory construction was started, AVG had become Group Manager of Sheikalmudi Group and so was in-charge of the project. He needed an Assistant to be at the site and he chose me. There was some pushback from my Manager, Mr. K. C. Uthaiyya who didn't want to let me go. AVG asked me if I could manage two jobs. I was delighted and immediately agreed. So, I was appointed as the Site Manager for Mayura at no additional pay. Why did I accept? Because AVG had asked me and I am the kind of person who loves challenges. Two jobs are not easy to do especially when it involves going between two sites about four or five kilometers apart and even more when my motorcycle died, and I had to walk. I did, many times, late at night. One day I was trudging back from Mayura to Murugalli and I heard a jeep drive up behind me and someone called, "Yawar, what are you doing walking on the road?" I looked and there was Mr. Rawlley, who had come to visit the group. He gave me a lift to Murugalli and asked me why I was walking. I told him about the demise of my bike and that is how I got my first Royal Enfield Bullet.
As the construction progressed, there was a shortage of cement and AVG sent me to Coimbatore to the ACC Cement factory to negotiate the price and buy what we needed. I spent several days there, covered with cement dust and thanked God when I could return to the purity of the hills. As Mayura was nearing completion I went to Hyderabad for a week and returned with my wife Samina, who became a lifelong friend of AVG and Paro.
The day of the inauguration, I had been awake and working continuously for over 24 hours, when Mr. AMM Arunachalam, Chairman Murugappa Group who owned our company and Mayura factory, called AVG and while discussing who should officiate as the representative of the Murugappa family at the Ganapathy Homam (Ganesh Pooja) for the inauguration, asked AVG to suggest a name. AVG could have done it himself or suggested the name of anyone of the several Hindu managers. He suggested my name. AMM agreed and said that as long as I was agreeable, he would be happy to have me represent the family. AVG called me and asked me what I thought of the idea. I told him that I was honored but had no clue about what I was supposed to do. He said, 'Don't worry, ask Subanna.' Subanna was our friend and the senior assistant manager in the group, Mr. M. Subramaniam. I called him and he said to me, 'It is nothing at all. Just sit there, and the priest will guide you. He will give you some grains of rice and you have to keep throwing them into the fire as he chants the slokas.' That didn't sound very complicated and wasn't. The whole proceedings took a couple of hours, but it went through smoothly. Thus, a factory owned by Chettiars, represented by a Muslim, was consecrated by Iyer priests. Sometimes, I wonder where those times vanished and instead we have the kind of hatred and enmity we see around us today.
That evening my wife and I were invited to dinner at Prema and Ricky Muthanna's place. Ricky was the head of the BBTC Group and this dinner was in honor of my wife, welcoming her to the planting district. Such charming traditions of the planting world of those days. My car meanwhile, always running on a string, a bar of soap and a prayer, gave up the ghost and so at the end of over twenty-four sleepless hours, we had this dinner to go to and no car. AVG had just received his new car and needless to say, he offered it to me to take my wife to the dinner. I was most grateful and delighted to have the opportunity to drive a new car. We started out and went safely to Mudis and were made very welcome by Prema and Ricky. As in all planter's parties, it starts with drinks. I don't drink and so very soon I found myself, as always at a different spiritual plane from those who were heavily fueled on Old Monk and Johnny Walker. It is not easy to sit in a corner and talk to a wall, since walls are good listeners but hardly ever respond to anything you say. Meanwhile, the exhaustion of the two days was hitting me. Prema saw me wilting in the corner and said to us, 'I will give you both dinner. You eat and leave before you drop.' I thought that was a very good idea and soon we were on our way back.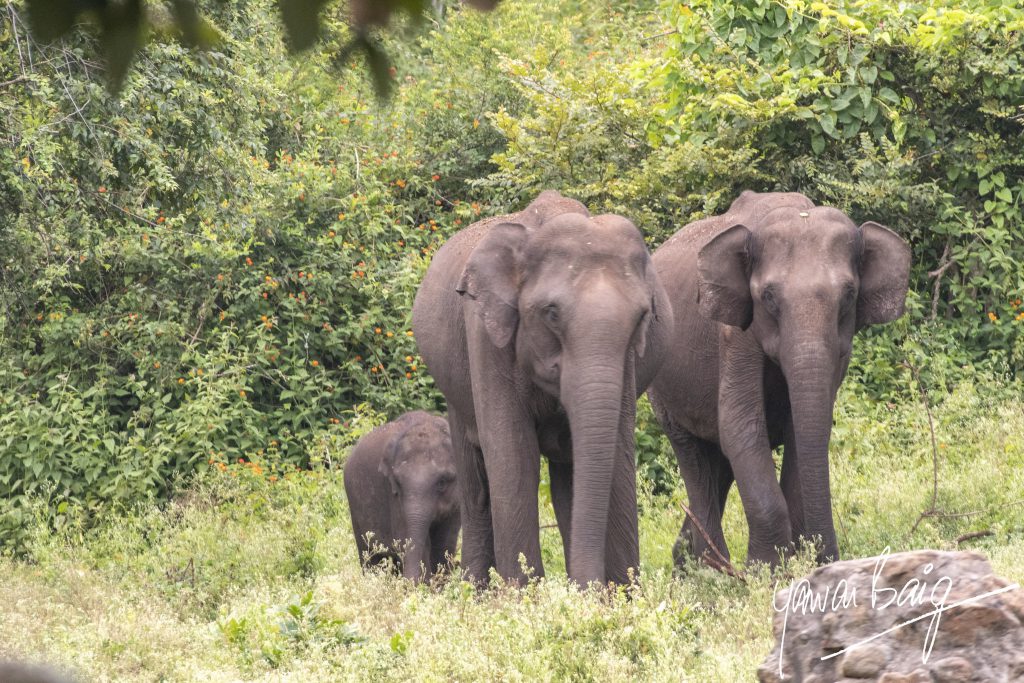 The thought of meeting elephants on the road, which was a distinct possibility in Mudis in those days, kept me awake. But as we took the final bend in the road leading up to my bungalow, I relaxed. There was a tremendous thud and the car stopped suddenly. I realized that I had fallen asleep and had gone off the road. That too on a hill road with one side falling off into a deep ravine is not good news at all. What saved us was a tea bush which held the car and prevented it from going completely off the road and down the slope. But we still had one wheel off the road, and the car sitting on its chassis on the edge of the road. Not just any car. My manager's new car.
By now it was past midnight. There was a small moon and so some little light. But no other light or sound. We lived in the Tennis Court Bungalow on Murugalli and where this accident occurred was just below a staircase that led up to a side gate of our bungalow and so I sent Samina up to the bungalow. Then I walked down into the labour lines (housing) to the house of our estate mechanic Thangavelu and woke him up. He and I then went down to Mayura factory and borrowed a tractor. There were no drivers there, so I drove the tractor after Thangavelu jump started it, as it had no battery and so no lights. We drove to a place in the tea field adjacent to Candura Division where we recalled seeing some telephone cable. Sure, enough there was a small roll of steel cable there. We picked it up and drove back up the hill to the car, tied the cable to the chassis at the back and hauled it back onto the road. I inspected the damage and found that apart from the indicator light on the left fender, the car was undamaged. That is when I started breathing again.
Next morning, I drove the car back to AVG's bungalow and said to him, 'Mr. Menon, I am sorry we had a small accident last night while returning from Mudis.' His instant reaction, 'Are you and Samina okay?' I looked at him with my jaw hanging open. Not one word about his new car. I told him that we were fine but that his car had a broken indicator light. 'That's alright', he said. 'That can be replaced.' That was it. Of such memories are friendships made. Today (Feb 1, 2018) AVG passed away. I lost a dear friend and mentor. A loss that can't be replaced. AVGM – A Very Good Man.