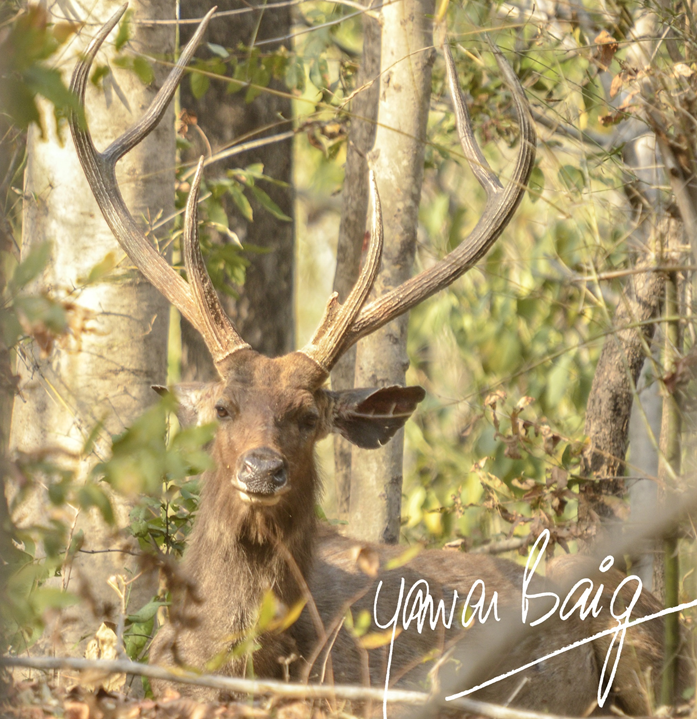 He was the king of the forest (or so he thought about himself). He stood over five feet tall at the shoulder, weighed over one thousand pounds, with a massive neck supporting a rack of magnificent antlers rising high above that. The antlers were very impressive to look at and very useful in battle when he had to defend his harem against uppity youngsters, trying their strength against him. They could however be a fatal liability in thick bush as they could get caught in it and become the cause of his demise, if had to make a quick dash to save himself from his only predator, the tiger. So, he had learnt to stay in relatively open areas of rocky slopes, dotted with trees and some bush. He knew how to stand or sit with his outline broken so that to the casual observer he became a part of the landscape, his body color merging with the earth and his antlers simply dead branches. Especially when he was aware of being watched but not yet alarmed to make a dash for it, he knew how to be so still that even a second look wouldn't reveal him to the observer. What he had no control over was his ears. They had to keep moving to scan for sounds, which may spell danger from a direction he was not looking at. And they were what gave away his location to the observer who had patience. https://en.wikipedia.org/wiki/Sambar_deer
On this day, he had had good browsing all night and then just before dawn he had gone to his favorite rolling spot, a wide pool full of slush. His kind rolled in it until they were covered in liquid mud which later dried to form a coat impermeable to flies and biting insects which were the bane of his life. A good roll ensured that he would be able to rest up during the day peacefully. Sambars are active at and after dusk into the night and so spend most of the day, resting in shady spots. The only danger with rolling was that tigers also knew about this luxury of Sambars. So, rolling spots were a favorite ambush spot for the tiger. For the tiger, a Sambar rolling in the mud is almost a sure meal because it is impossible for the Sambar to rise from a prone position on his back and side and run before the tiger closes on him. So, Sambar are extremely cautious when they go to roll and spend far more time casing the joint, than in rolling. The roll is really a quick one, very like a horse rolling in the dust (for the same reason) and then he is up, all senses in high alert, trying to see if he can do another roll or must run for it.
For an animal this big, Sambar are extremely agile and gallop up and down steep rocky slopes as if they were flying. Having ridden horses, cross country I can vouch for it that there is no horse or horseman in the world which can chase a Sambar either up or down a slope without breaking a leg of the horse and killing himself. But Sambar do it all the time. As a matter of fact, their favorite escape tactic is to race downhill at full gallop, which even tigers can't match them at. All this of course if they are alert to danger and get as much of a head start as possible. Awareness is their best defence and their best guarantee of survival. This stag had reached his prime because he had mastered the art of being alert. There were deep claw marks on his withers to show the only encounter with a tiger; a young male whose ambition exceeded his ability. But still his claws drew lines in the Sambar stag's hide that healed but remained as a reminder to him of the importance of being on his guard all the time.
Today he had been sitting in the shade of a large, gnarled Babool tree halfway up the slope of the range of hills that rise from the waters of the Kadam Dam. After his browsing in the night, he had had a long and cool drink from the waters of the lake and climbed up the slope to his favorite spot under this tree. It was high enough to give him a vantage point. Before him was open land, very rocky and interspersed with stunted Seetaphal (Custard Apple), Lantana, Ber and young Babool. Behind him the hillside rose steeply and was covered with scree which meant that anyone coming down that slope would almost certainly send a few small stones rolling down, enough to alert him to possible danger. It was still fairly early in the day, but it promised to be another hot one. Summers here tended to be extremely hot with temperatures in the forties. The sky was clear and blue which would take a steely hue as the sun racked up the temperature but for now, the breeze blowing his way over the water of the dam was still cool. All seemed right with the world, but he was not happy. Something within him told him that today was not a day like all others. There was an ominous feeling inside him which he couldn't describe but which his kind had learnt to trust. A feeling of impending danger which he couldn't find evidence for but which he knew could save his life. He was uneasy but not yet alarmed enough to leave his cool spot in the shade and make a break for it.
I was nineteen years old and spending my summer vacation with Uncle Rama in Sethpally, a little village in Adilabad District of Telangana. Sethpally is close to the bank of the Kadam River which flows into the lake created by the Kadam Dam, from which rise the mountains of the Sahyadri Range. Rocky and sparsely covered with semideciduous forest and thorn bush but famous for Sambar. As it is open forest, the stags tend to grow a large head of antlers, a prime consideration for trophy hunters. The biggest stags are to be found further north in Madhya Pradesh, but the Sambar of this part of the world were nothing to be sneezed at either.
I used to spend all my vacations with Uncle Rama on his farmhouse which was on the bank of the Kadam wandering in the forest all day or if I was home, sleeping off the hottest part of the day in the thick shade of the three huge tamarind trees that grew between the farmhouse and the river. There is no air-conditioning to beat the coolness of the shade of a tamarind tree and no soothing sleep-inducing music to beat the sound of the breeze rustling its leaves. The forest is never totally silent, though between midday and late afternoon, which is the hottest part of the day, is perhaps the quietest. Still, you would hear the occasional barking of a dog from the Gond village on the other side of the river, or the cooing of Ring Necked doves roosting in the thick foliage of the tamarind trees I was sleeping under. Occasionally the alarm call of the Red Wattled Lapwing would sound its question, 'Did-you-do-it?' over and over until presumably it discovered who had done it. All this over the background of the ceaseless buzz of the Cicadas and the call of the Common Hawk Cuckoo (Brain Fever Bird), starting low and rising to a crescendo and ending only to rise again. Here is a recording of it: https://www.youtube.com/watch?v=bPqi5BcfETM But all these sounds are part of the atmosphere of the forest and not only don't disturb your sleep but soothe you into it. Today, over forty years later, I still remember the peace and tranquility of that sleep.
Two days before that Uncle Rama decided that we would go on a game drive. Now these are things that I'd only known to have happened in British India with the Maharajas and their cronies the White Sahibs. To be one of the guns in a game drive is something that I had never imagined in my wildest dream. My excitement knew no bounds. I could hardly sleep that night. The next day there was a council of war, as it were. The head of the Lambada Tanda (a Tanda is a Lambada village) came to see Uncle Rama to decide on the number of men we would need for the drive.
Plans were made for camping as we would be away for three days in all. These were the days when hunting was permitted and so all permissions were obtained and the local DFO (District Forest Officer) was one of the invitees. My single thought, however, was to get a big Sambar stag to my credit. The place we planned to go to was some miles away from the farm. It was a series of low hills, part of the Sahyadri range that bordered the Kadam River dam. These hills were very thickly forested and were very steep, coming down to the water's edge on one side and rolling away, one into another on the other: ideal Sambar country. Also, ideal tiger and leopard country. The Sambar in this area is a large animal with the stags sporting a very respectable set of antlers, but not the gigantic racks of the Sambar of Madhya Pradesh. These are forest Sambar, and an overly large head of horns would be a distinct disadvantage. Having said that, it is only in comparison that their antlers are smaller. By themselves they are very impressive indeed.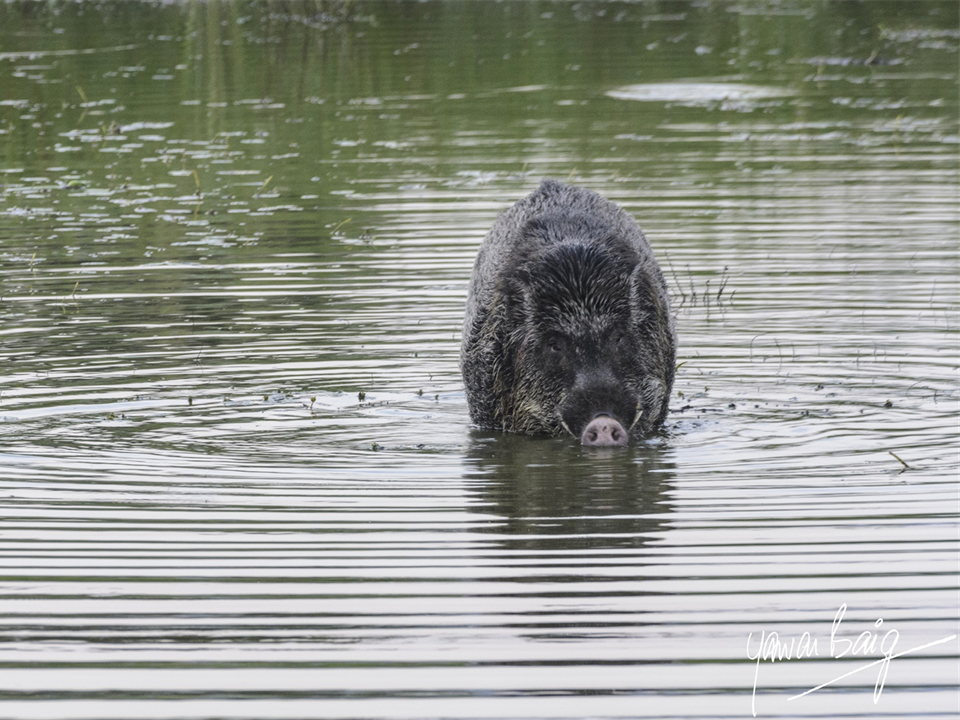 In addition to the species I mentioned, in these hills that we were going to beat, are wild boar, sloth bears, bison, and peacocks. No Chital or Nilgai as they prefer more open area. Also, many Grey Jungle Fowl with their familiar crowing in the mornings and at dusk. So, there was much expectation about all the different animals that we were likely to see. We had emphatic instructions from Uncle Rama that we were not to shoot a tiger, bear, bison, or leopard under any circumstances. Everything else was fair game. And the main quarry of course was a good Sambar stag. Shoot or not, the very thought that we would possibly see a tiger or leopard at close quarters was something to make the heart race in anticipation and not a little fear. As it happened, we did not see any of the 'prohibited' species. But let me tell the tale in sequence for it is one in which I discovered something about myself. Something that I remember with happiness and pride to this day.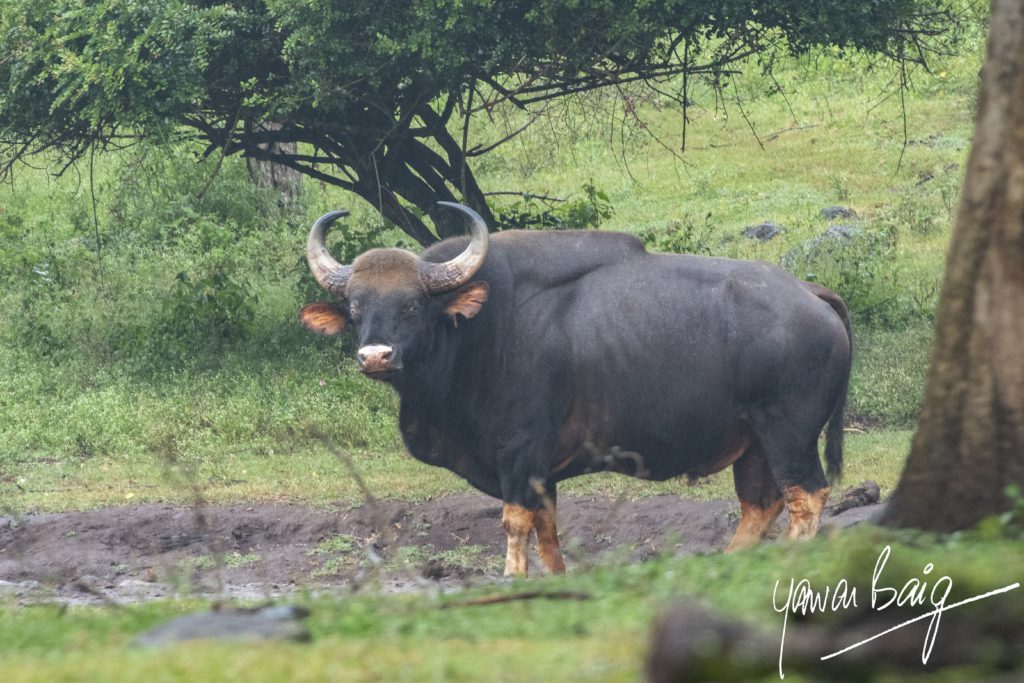 We started just before daybreak the next morning, having spent the greater part of the night in preparation. Guns to be cleaned, ammo to be sorted out and kept in order so that it was easily accessible. Food for the day plus cooking pots, condiments, some vegetables, rice, dal, sugar, tea, and milk powder for the next three days. Camping stuff; sleeping bags, small tents, and all the rest. And of course, knives. However, one major caveat – the word 'knife' was not to be spoken aloud. Uncle Rama believed that if one said the word 'knife' (in any language – as we all habitually spoke at least 3 languages alternatively) we would not see any game. So, we made very sure never to say 'knife'. Uncle Rama had a beauty, a medium sized switch blade knife with a tungsten steel blade, sharp as a razor. I was its keeper as I was also the official 'Halaal' guy, whose job it was to make sure that at least one of the animals shot was killed in the Muslim, zabiha way, so that I and Uncle Rama's other Muslim friends would not go hungry.
By the time we reached Kadam River Dam, it was getting light. We parked the jeeps by the canal and started off in a single file up the forest track. The Lambadas were already at the site, and we had many willing hands for the stuff we were carrying. So, each of us only carried his personal weapon. Uncle Rama was a great stickler for safety and made sure that there was no cartridge up the spout of any gun and that all safety catches were on. Silence was essential as we didn't want to disturb the game and it was prohibited to shoot anything on the way to the camp. We walked on as daylight grew stronger, harbinger of the heat of the day that was to come.
As we climbed the hills, I looked all around me hoping to see signs of the game that we had come to hunt. But apart from occasional droppings, there was not a sign that anything lived in these hills. The path wound sententiously along through dry teak plantation forests, with the huge dry teak leaves crackling loudly if you stepped on them. This was almost impossible to avoid, and it made me even more anxious that we were scaring away all the animals by our loud approach. Finally, at about 8:30 AM we came to a clearing, a large expanse of open ground, very rocky and sloping down to the river on one side. All the trees in sight were dry and leafless so there was almost no shade, and the sheet of rocks promised a very hot stay. However, we were not planning to stay in the tents that were pitched immediately, and in any case, I was too excited to worry about anything other than the coming hunt.
After a hurried breakfast, and fortified by extremely sweet, milky tea, we set off to establish the shooting line.
In any game drive, the positioning of the guns is critical to success. It is essential to do the positioning as unobtrusively as possible so as not to alarm any game that may be in the area, and which would clear off if scared. So, Uncle Rama did it himself, making sure not only that each person was positioned strategically to cover a given expanse of ground, but that each person's 'territory' overlapped the boundary of his neighbor but was still at a safe distance from him. This way, the two guns would have a fair chance of spotting an animal between them but would not accidentally shoot each other.
As I mentioned earlier, this is hilly country with steep climbs and deep valleys and ravines. Positioning all the guns means to walk the entire line and in the growing heat of the day. It's no picnic. The 'Brain-fever' bird and the always present cicadas were the only accompaniment as we were all sworn to silence on the pain of death. Once all were in place, and Uncle Rama was also back at his own station at the end of the line, he gave the signal and the beat started.
It is almost impossible to describe the excitement of waiting. First there is silence. There is no sign that anything is happening at all. Then slowly as some time passes, you start hearing the beaters. These are men who walk along towards you in a widely spaced line, simply talking to each other loudly, throwing stones into any likely looking thicket to raise any animal which may be hiding in it and occasionally shouting, especially if they wanted to alert the guns to anything special. The idea is to get the animals to move but not to scare them too much, otherwise they would come to the guns too fast leading to missed shots or worse still, wounded animals. The excitement is palpable and is the essence of the experience of being a 'gun' in a beat.
My own station was in the middle of a thick Ber bush, very thorny and very uncomfortable even though some space had been cleared for me to stand in the center. Directly in front, facing a slope going down into the valley before me, a small section of the bush had been cut out so that I would have a clear field of fire. Yet to anyone looking at the bush from outside, I would be invisible. In this position, I stood, silently ignoring the flies and the dribbling rivulets of sweat going down my neck. It is important to remember that it is movement that attracts attention and makes one visible. If you are still and your body outline is broken up by the surroundings, then you can be almost invisible even to anyone looking directly at you. But the moment you even blink an eye, you will become visible. I knew this very well and so stood very still listening to the sounds of the beaters.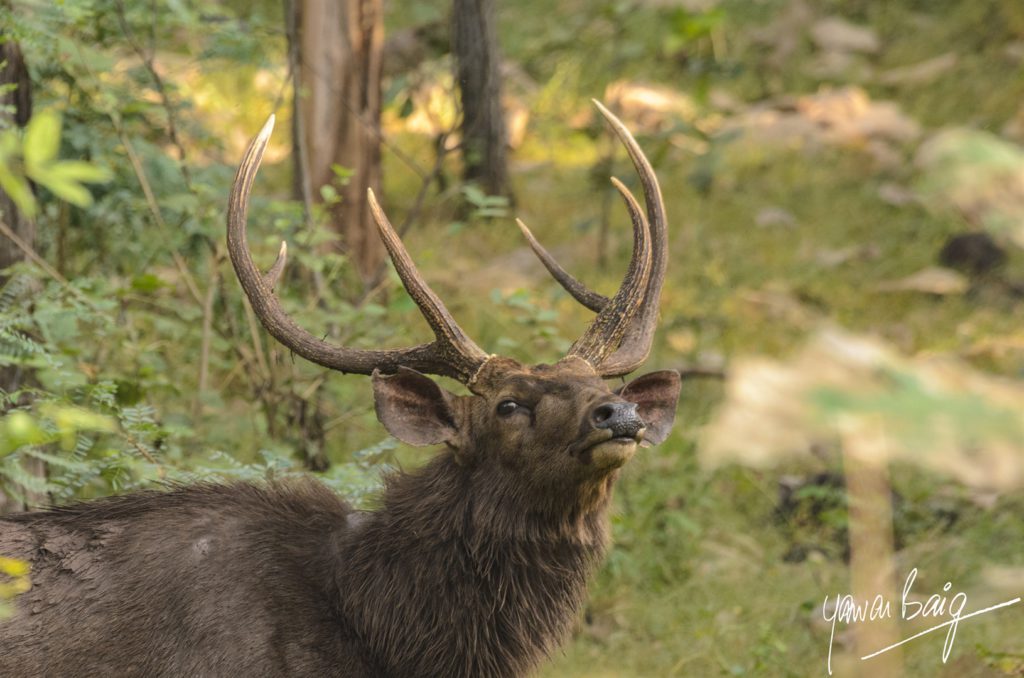 The Sambar's instincts were right. His uneasiness justified. He stood up and scented the air and could faintly smell man. The breeze was blowing to him from the lake below so he could scent them. He could also hear them talking to one another. He remembered an earlier instance a few years ago when he was not yet in his prime, when he was in such a situation. As he tried to flee from the men on that occasion, he almost came in the way of a tiger but strangely the tiger was more alarmed than he was and didn't show the slightest interest in him. Then he heard loud bangs behind him and to one side, and he ran for his life. He had no idea what was happening, but he was glad that he came out of that unscathed. Today once again, it seemed that it was something similar. Something that didn't bode well for him if he didn't get away. He was still not in a panic. But he was fearful and extremely cautious. His senses were all at peak alert, trying to sense the slightest movement before him or scent on the breeze as he purposefully climbed up the hillside to get to the path, he knew would take him down the other side to safety.
And then it happened! I saw some movement directly opposite me, coming up the slope. First, I saw the tips of his antlers, then the head and neck and then the full deep chested body of a full-grown Sambar stag, alarmed but not scared, looking over his shoulder occasionally as he climbed the hill, coming directly at me. I can never describe the majesty of his progress. He looked like the king he was, fearing nothing except the tiger and of course man. He knew that danger was behind him and knew how to get away. The wind was blowing up from the lake from him in my direction, so he had no idea how close he was to me. He was huge and as he came up the hill, he grew bigger in my eyes. In such a situation when you are either facing grave danger or high excitement, you live in the moment. Adrenalin is coursing through your veins and heightens all sensation. You see in vivid color; you smell all the variety of smells coming your way on the breeze and you feel the heart pounding in your breast and hear your blood racing in your ears.
I could smell him, the rank smell of cattle. He had been rolling in mud and his coat was caked in it. But what I noticed was the deep raking marks of tiger claws on his withers. This was a stag who'd had a close brush with death. I wondered how he got away. But he had and here he was, facing death again but without the slightest idea about it. He had a big head of antlers, the ideal trophy for me right in the beginning of the drive. What phenomenal good fortune for me, I thought.
My gun was already at port and to gently bring it to my shoulder and my cheek to the stock was a matter of an instant and I was looking at the throat of the Sambar through the open sights. I took in the slack of the trigger and knew that if I just squeezed my grip one degree, this stag would become a trophy in my house. And that is when I discovered something about my own nature. I discovered that it was impossible for me to kill something as beautiful and majestic as this. I just stood there and looked, drinking in the sight of this fabulous animal coming up the slope, carrying his antlers as proudly as any king with his crown. When he came right to the top, I whistled. The change in his stance was magical. One instant he was looking backward concerned about the sounds of the beaters. Next instant, electrified, all his adrenaline pumping into his bloodstream, he honked in alarm and was gone in a flash.
That was effectively the end of the drive for me as I was no longer in a mood to hunt. I just sat and enjoyed the scenery and re-lived the experience of my Sambar again and again. To this day, I can see him walking up that slope, coming to the gun held by a boy who would not shoot. When we all collected after the drive to look at what the bag was, the beaters asked me about the Sambar which they had seen. Nobody was amused or impressed with my story of why I could not bring myself to shoot the animal. Uncle Rama kept silent in all the ribbing that I was getting. When the others had gone off, he came to me and said, "Yawar-baba, I am proud of you. What you did is true sportsmanship." Such were my teachers. The lesson to follow my heart, notwithstanding unpopularity, is something that I have never forgotten all my life.