Alvin Toffler, the author of 'Future Shock' said something very interesting. He said, "The illiterate of the 21st century will not be those who cannot read and write, but those who cannot learn, unlearn, and relearn." I want to begin with this quote as I consider it perhaps the most important for us to reflect on. I would disagree with only one thing in this quote; I wouldn't say, 'The illiterate of the 21st century'; I would say, 'The illiterate of any time are those who cannot learn, unlearn and relearn.'
I say, 'Pain is inevitable. Learning from it is optional. Repetition is the price of not learning.'
Learning and even more relearning, is a key survival skill as well as the single most important skill that any person can learn and continue to remain adept in, if he wants to be and remain successful throughout his life. I will tell you in a minute why I say that relearning is even more important. But first something about learning.
Learning is not exclusive to humans. Every living thing learns. Plants learn, animals, birds, reptiles, amphibians, fish, all learn. And they use that learning to change their behavior, techniques to hunt prey or evade predators, get access to the best pastures, times to flower, fruit, procreate and so on. All adaptation is a result of species learning.
Learning is the result of a fundamental quality and that is curiosity. Sadly, that is almost the first thing that our traditional so-called education destroys. The second is imagination. Both are critical to learning but our schooling is not concerned about learning. Only about memorizing and regurgitating. Anyway, that is another matter. To return to curiosity, we learn when we actively choose to be curious. To be curious is to accept that we don't know. Curiosity is a quality. It is not content specific. A curious person is curious about everything and so is constantly learning. Curiosity is about asking questions. To ask why and how, even more than what. I recall an incident that happened with me in 1983 which taught me a very big lesson about the importance and value of curiosity.
I had just joined tea planting in South India as an Assistant Manager in Sheikalmudi Estate in the Anamallais, when my uncle Hasanuddin Ahmed and my aunt, Husnara Aunty decided to visit me. I was delighted both to have someone from my family visit me and also because they were both very dear to me. After they arrived and we'd had a cup of tea, served very stylishly by my butler, Bastian, we went for a short walk down the path leading out from the bungalow. The path, like all paths in tea was lined with tea bushes. As we walked along, Hasan uncle asked me to explain the tea cultivation and manufacturing process. I was very happy to show off my new-found knowledge and gave him a quick account of it all, from plucking to final packing. He listened attentively and then plucked two or three tea shoots and asked me, "If you simply boil these, what happens?" I was stumped. I had no idea. I had never done such a thing.
What struck me like a thump on the head was that this simple question had never occurred to me. "What happens if you simply boil green tea leaves?" I was living in the middle of tea fields and didn't know the answer to his simple question. The reason was not lack of intelligence or opportunity to learn. It was simply a lack of curiosity. I lay that at the feet of schooling which tells us just to accept whatever we are told and never to ask anything outside of that boundary. I am sure my teachers had never boiled green tea leaves to see what happens to them or what the brew would taste like. Naturally there would be many who would scoff at the 'stupid' question. "Why would you even want to do such a thing?" they would ask. None of them would understand that it had nothing to do with boiling tea leaves but with asking questions outside the boundary of the known. Needless to say, I picked a few shoots, boiled them and discovered that they tasted like boiled green leaves and not like tea. But that is not the point. The point is that I learned the value of curiosity and that helped me throughout my life ever since. One example of that was that when I went to rubber planting and manufacture in 1991, I saw that processed rubber was hung to dry in large sheds and they relied on cross ventilation to do the job. That was erratic to say the least and any delay in drying resulted in fungus formation on the rubber sheets which reduced their quality and price.
So, I asked a question. What happens if we install withering fans from a tea factory in a rubber drying shed? Nobody had an answer. It had never been done though many of the major rubber planting companies also had tea estates and used those fans in the tea estates, but nobody had thought of using them in rubber. That didn't mean that I was a genius. It just meant that I had asked a question which anyone could have asked but didn't. We promptly ordered a couple of old fans and installed them and loed and beheld that they changed the way rubber sheets were dried. I am not sure who else did this in their factories but if they want to know where the idea came from, it was New Ambadi Estate, when I was the Manager in 1991-93. Learning comes from curiosity and so curiosity should be strongly inculcated and supported. We must create an atmosphere of asking questions and every question, no matter how outlandish or stupid it may sound, should be allowed, respected and valued and the questioner must be encouraged to find its answer.
Which brings me to the question of relearning.
We humans are not unique in learning. What makes us unique is what we do with learning and that is to take learning from one area, one context, one situation, one part of life and apply it to a completely different time, place and situation. What enables us to do that is conceptualization. Conceptualization is perhaps the absolute essence of learning to the extent that I am prepared to say that the one who doesn't conceptualize has not learnt. No matter how much experience (happenings) he has, he learns only when and if he conceptualizes. That is why the old adage, "Experience is not what happens to you but what you do with what happens to you." What you do, refers to conceptualization. In my practice as an Executive Coach and Mentor, this is what I focus on. I ask one simple question: 'So what?' Meaning, 'So what did you learn?' Sometimes I see shock on the face of my clients when after listening to them pouring out their hearts about their experiences, they hear me ask, 'So what?' It even sounds rude. I know that and I use it for its shock value. People don't think until you shock them. So, I ask, 'So what?' and then I ask, 'So what did you learn?' Usually, the answer is, 'Nothing. I am so busy reveling in my own misery, anger, grief or even happiness that I learnt nothing.' And that is the problem. I don't learn because I don't conceptualize and so I gain nothing from that experience in my life.
Why does this happen? It happens because learning is often painful. To learn we need to distance ourselves from the emotional aspects of the experience and view it objectively and extract lessons, some of them, very painful to accept. However, these are often the most valuable. We don't like to accept them because to do so, we need to accept that we were wrong. But all change begins with accepting the need to change, which is to say, 'I was wrong.' Why else would you change? That is the third quality that we need to learn; humility. When one is humble one feels the pain of accepting his mistake but is saved from the consequences of that mistake which are always far more serious and painful.
There is an old teaching story about a learned professor who decided that he needed to do something about his spiritual development. So, he went to a Sufi Master and requested him to accept him as his student. The Master nodded accent and then took up an empty pot and went to the well in his yard. The new student accompanied him. At the well, the Master put the pot on the wall of the well and drew water from the well and poured it into the pot. The pot filled up quickly but the Master kept drawing water and pouring it into the pot. Seeing this the professor was at first surprised, then irritated and then exasperated. Almost in desperation, he blurted out, "That pot is full. It can't take in anymore! Can't you see that?" The Master smiled at him, picked up the pot and as he walked back into the house, said, "And that is your case." The professor realized that what he needed to do was to empty his mind of what he knew, scale down his ego about being a professor and approach the Master as a humble student.
The three critical qualities for learning are therefore, curiosity, conceptualization and humility.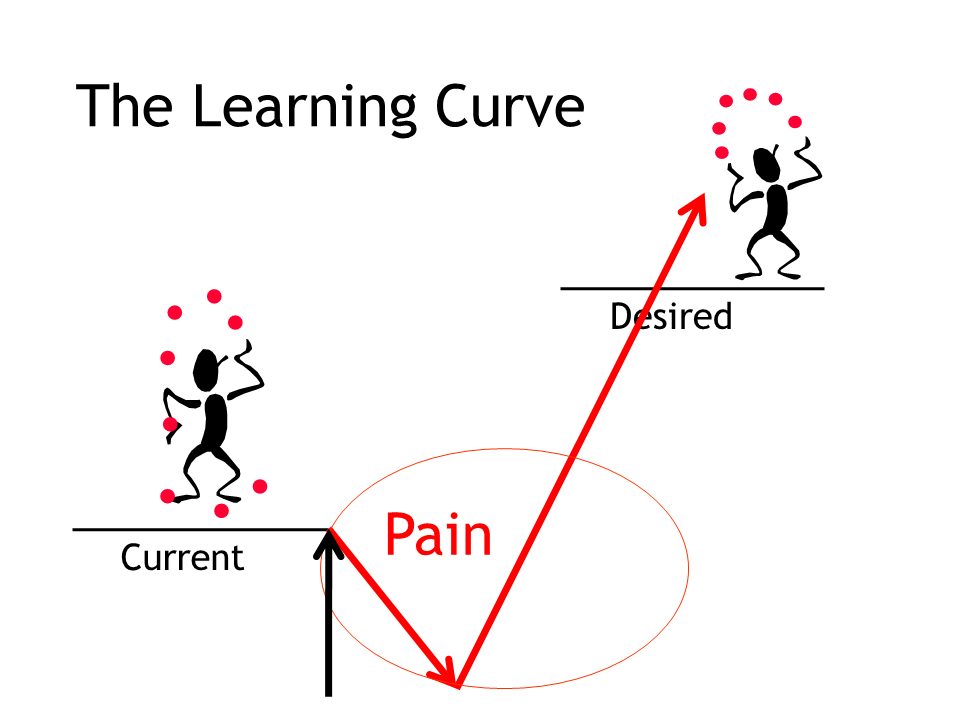 The last one is the willingness to get out of our comfort zone. That is perhaps the most difficult one and that is the reason why even people who have been doing something one way and realize that there is a better way, never try the new way because they are too comfortable in the old way and don't want to take the pain of the new way. Ask anyone who is trying to improve his drive, in golf or learning public speaking or change the way he or she reacts to irritation. Anyone who has tried to re-train people will swear that training someone who doesn't know is far easier than re-training someone who knew that tool or trade but did it differently. This is very visible also in the case of speech accents. People who learn a language for the first time, do it correctly and more easily and quickly than those who learned to speak in a particular way and then want to change the way they speak and pronounce words.
The problem is that when we try to learn anything new, our efficiency goes down. Whether it is a new language or a new phone; learning to use it means that for a while you are going to be less efficient. That is painful. When I switched from a Blackberry to a Nokia touchscreen phone, it was misery until I got used to the touchscreen. I used to type on a Blackberry with one thumb. On a touchscreen, it played havoc with my typing for many days. I hated it but had no alternative because Blackberries had become defunct. As they say the rest is history. That is the learning curve. Mentally therefore, if you wish to relearn, focus on two things: remember that it will be painful and that the result will be brilliant. That will help you to get through the area of pain and start benefiting from the new way. That is perseverance. The ability to see what the change will get you while you are going through the pain of learning.
Final recap: Curiosity, Conceptualization, Humility and Perseverance. These are the four key ingredients for the most important skill that we need to have and keep intact and practice all our lives; the ability to learn continuously.