I had been in Kwakwani, Guyana for a year and decided to go to London for my annual vacation. It was 1980. The only person I knew in England was my uncle, Aziz Ahmed who lived in East Finchley and I wrote to him that I wanted to go to London. He very kindly invited me to stay with him. I had never met Aziz Mamu (uncle) before but had written to him on the basis of our relationship, as he was my mother's cousin. He, very kindly gave me directions of how to get to him from Heathrow on the Tube and I arrived at his flat with a vast emptiness within me. I couldn't understand why I was so hungry because it was brilliant sunshine and didn't look anywhere like the end of the day and dinner time. I felt hesitant about asking for something to eat, so just remained hungry wondering when it would occur to my uncle to ask me if I wanted to eat anything. Aziz Mamu was the quintessential bachelor and after showing me my sleeping place, disappeared into his study. I took the opportunity to look around his flat and suddenly saw a small clock on a decorative mantle shelf. It showed the time as 9.30 PM. I couldn't believe my eyes. It was bright sunshine, and the time was 9.30 PM. That was my introduction to England in the summer.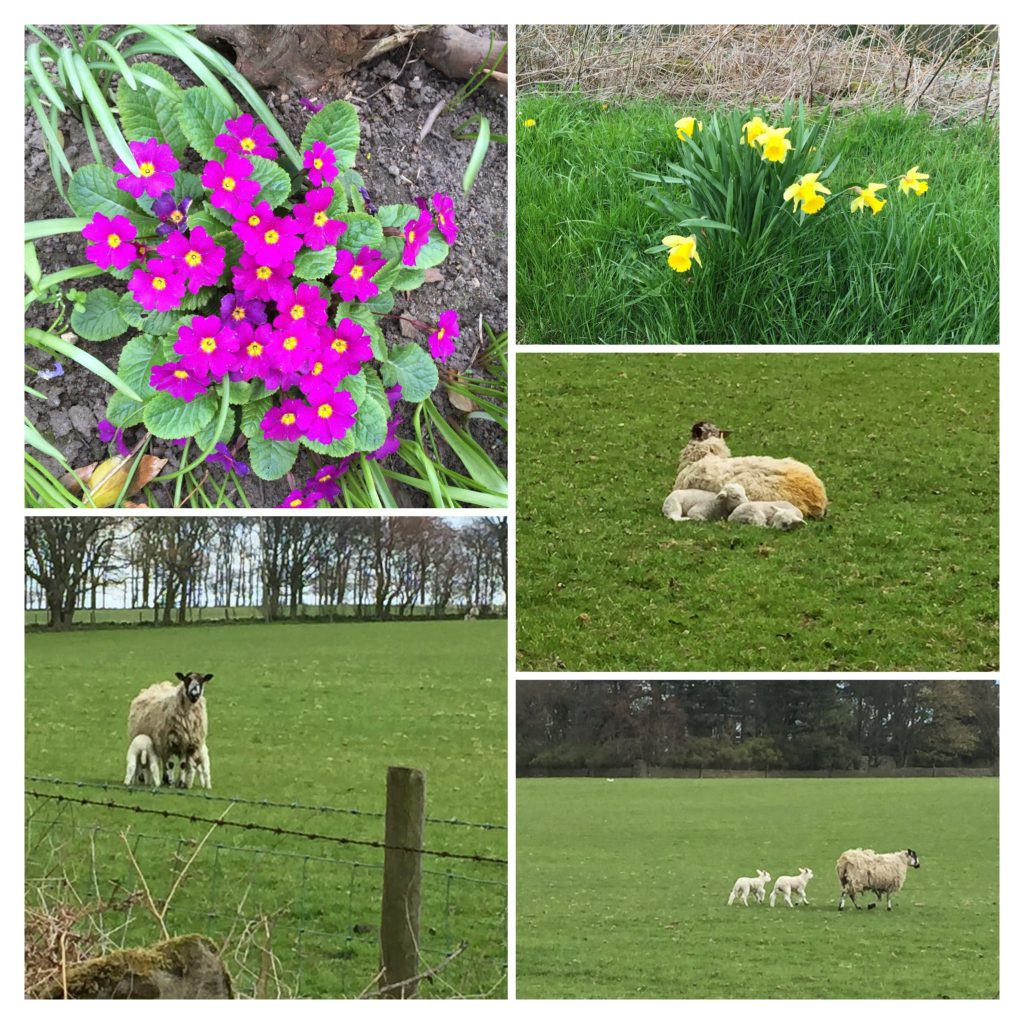 England is grey, wet, and cold in the winter. But in the summer, it transforms into the most beautiful scene that one can imagine. Clean, green, flowers everywhere, bird calls, bubbling brooks, brilliant yellow mustard fields, sheep that look like animated balls of wool (I guess that is what they are anyway), each with two lambs gamboling around them and where there is a shepherd, then his Border Collie keeping order. I can go on endlessly, but I won't. I would leave my uncle's flat every morning and return late in the night. I walked the streets of London town, investigated the shops, went to the theatre (saw Mousetrap and Evita), visited London Bridge, took the free Bus tour and just watched life happen on the Thames. Meanwhile my uncle said to me that a friend of his was coming to stay with him and so I would have to move. He gave me the key to the apartment of a friend of his who was away on holiday and told me to stay there. I was totally on my own in this flat but after I got used to the idea, I rather liked it.
Question was, what was I to do with myself for the rest of my holiday? I picked up several tour pamphlets from the London Underground station and decided on coach tours. I took two coach tours. One to Windsor Castle and another to Edinburgh. I must recommend these coach tours. Very good value for money with excellent guides and very comfortable. One little thing I recall from my Edinburgh tour was that on the bus, I was so taken in by the beautiful scenery that I said to my seatmate, "England is such a beautiful place."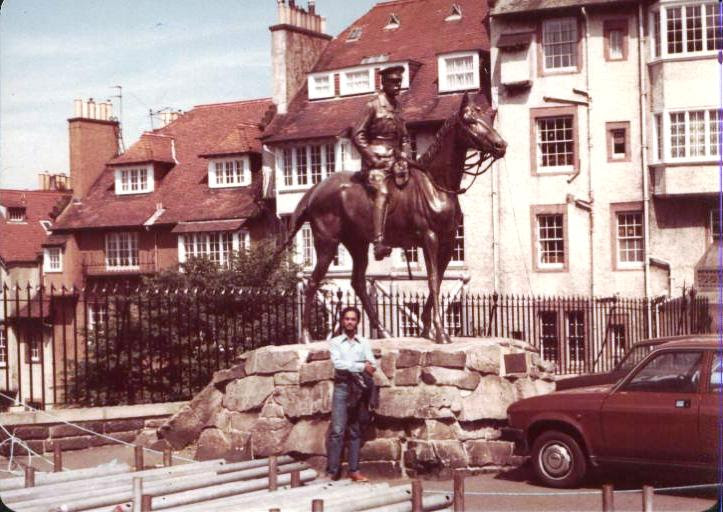 "That may be, but this is Scotland", he said. That was a lesson in geography and nationalist spirit, two in one.
Having done all this, one evening I was sitting in solitary splendor in front of the TV when I saw a horse-riding holiday advertisement in one of my tour pamphlets. The business was called Sunday Sight and was in a village called Bellingham, near Hexham in Northumberland. I called the number and the very friendly voice of Sally Bell invited me to come, gave me directions and the next day I was on the train. The holiday was outstanding and unique, first of its kind in my life, but much more importantly, I made friends, Sally and Michael Bell who have been my friends now for over forty years.
Having decided to go on a horse-riding holiday I realized that I didn't have any gear. Sal told me that they could probably give me a hat, but I needed a lot more than that. So, off I went shopping in London. I didn't have the guts to go into Harrods, which has riding gear. I found a shop called Riders & Squires in Kensington and headed there. It was a very upmarket shop and way above my budget, but nevertheless it was very interesting to browse. I did, waiting for a chance to leave unnoticed with my honor intact. At that moment two very aristocratic ladies entered. The shop attendant promptly left me and rushed off to gush all over them. "Lady Whatnot," she gushed, "I love that grey of yours." She meant the grey horse that Lady Whatnot owned. "Which one dear?" asked the lady. "I have seven greys." I almost said, "The one that looks like you, Madam." I'm sure the poor girl would have appreciated the support, but I decided that getting away was more important than chivalry. So, while the flattened shop lady was applying balm on her bruises, I managed to make a neat getaway. I found what I needed at Marks & Spencer at a price that didn't threaten to ruin me and headed home.
I arrived and was met at the station and driven to Sunday Sight. English villages have a charm of their own. Cottages with thatch roofs, stone walls, dating back sometimes more than a century and gardens that clearly showed the enormous attention and effort that was put into them. Always a church and a cemetery, very peaceful and quiet, which explains why people die to get there. Flowers in beds and in hanging baskets, creepers on walls, sometimes even a neat patch of lawn. Neat hedges, buttercups and daisies, fenced fields and pastures with sheep and cattle grazing in them, the picture of tranquility. Brooks of clear water, bubbling over rocky beds. The cawing of ravens, fat pigeons feeding on grain with one eye to the sky, scanning for the peregrine falcon, their only but deadly enemy. If you are lucky you get to see a shepherd with his black and white Border Collie, working to separate a few sheep from the main flock for reasons known only to the shepherd. The man and dog working with a telepathic connection that is magic to watch.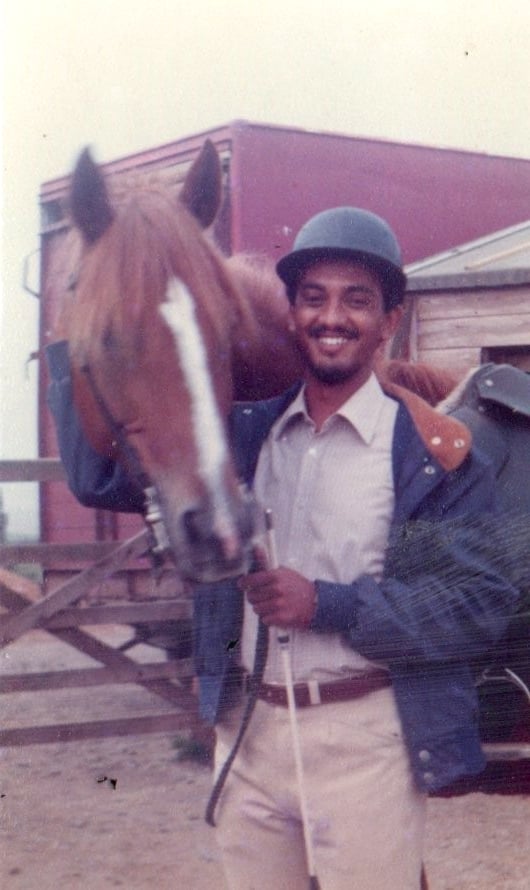 Next morning, we went on our first ride, Sally Bell, Jenny and Nicole Herbert, the latter two friends of Sal who boarded their horses at Sunday Sight. I was an excellent rider, having ridden horses all through my school and college days in Hyderabad but I hadn't ridden for over a decade, so was a bit apprehensive about the likelihood of my parting company with my saddle. Here we were riding over the moors, sometimes along the famous Hadrian's Wall. At other times in the environs of Kielder Forest and Kielder Water, both man-made. This is what Wiki has to say about Kielder Forest. "Kielder Forest is a large forestry plantation in Northumberland, England, surrounding Kielder village and the Kielder Water reservoir. It is the largest man-made woodland in England with three-quarters of its 250 square miles (650 km2) covered by forest."
To return to the ride on the moors, it meant being totally alert all the way because though the land was familiar to Sal, Nicole, and Jenny, it was totally new to me. I can't recall the name of Sal's or my horses, but Nicole Herbert was riding Amrix and Jenny was riding Kismet. Amrix was a stallion and very spirited. Kismet was a gelding and very gentle and sedate. The ride was sometimes over rough pathways, and at other times, cross country including a couple of jumps across a trench and a low fence. I managed to remain glued to my saddle and thereby vindicated my honor and that of my riding instructors in Hyderabad. I was particularly chuffed as I was riding, as I mentioned, after a decade or more and to be able to do it competently in those circumstances, made me very happy indeed.
Michael Bell is an MG enthusiast and restores classic MGs and drives them like MGs should be driven. That means that if you happen to be the passenger, you need a strong heart. Michael gave me a couple of rides which I recall most pleasantly. We would ride horses in the mornings, have lunch at a pub along the way and return home late in the afternoon. Groom our horses and bed them down – it was that kind of holiday – and then have a shower and get ready for dinner at home. I was very glad that the kind of upbringing I had in Hyderabad riding club, I knew my way very competently around a stable and was able to do all my tasks comfortably. Dinner was Sal's cooking, very delicious, wholesome, and quintessentially British. After dinner we would sit in front of the fire and tell stories. In Northumberland nights are cold and a log fire is most welcome. I had a lot of stories to tell of Guyana and India, some of which you would have read and are on this blog and in my book, "From India to the Indies". Eventually it was time to leave and head back to London and from there to Georgetown, Guyana. As a parting gift, Sal gave me a pewter horse head on a wooden base, that she had made herself. A lovely gift to remind me of my lovely friends.